Yugatech Featured on Mel&Joey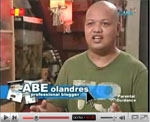 One of the most popular blogger in the Philippines was Abe (abraham) Olandres. After years of blogging he is now a professional blogger and earns through affiliate programs, having his own webhosting, a blog consultant and a resource speaker as stated in his Yugatech blog. I can say that he was one of the most successful online entrepreneur here in our country.
Last Sunday he was featured in Mel&Joey but made a sensationalized income made by Abe through blogging. But he clears this out through his blog titled Welcome Notes to Visitors from Mel & Joey. During an interview in Mel&Joey he said that a lot people have been emailing him asking that they wanted to put up a blog because they want to earn. He said that it's not that simple. He started his blog in 2002 and just started to realized that he can place advertisers in his blog in 2005. So the bottom line is this is not an overnight gig. Like other businesses or enterprise you should put a lot of effort, passion, skill and patience.
For those who didn't have a chance to watch the segment, here is a clip from Youtube:
[tag]blogging,yugatech,mel&joey[/tag]