Create Your Own Business Logo
I just made another face lift for this blogs logo because the older one seems unappropriate. When I was just starting this blog I was thinking  if I will use a local icon like a Philippine jeepney. It might look good and what I have in mind is since jeepney drivers is one of a good example of a Filipino entrepreneuer, a jeepney was the best idea. But putting it in a blog, well I might look silly so I thought of another one and found a graphic that might blend well on the niche of entrepreneurship. Just a clipart of a man with an attache case on a jumping pose. Then again after a year I changed the logo with a graphic representation of a man with salakot (a native hat used by Filipino farmers) with a laptop covered with a sawali (woven split bamboo mat) to symbolize a typical Juan dela Cruz being high tech despite of the traditional stuffs like those. (See the logo below)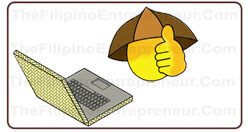 But despite how hard I made the logo (I used Autocad to make that laptop), I did not bother to think that text or wordings are the most important. The graphics might catch too much attention and the blog reader might forget about the brand name. Of course this blog has a name but the logo and the name should be one. So now I decided to make another change and below is the outcome: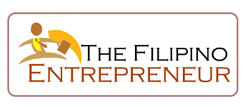 You know how I made that one? very simple. Just go to the logomaker website (http://www.logomaker.com/) and you can simply make your own but there is a catch. You have to buy the logo you just created and you can save it by signing-up. But there is a solution if you have basic knowledge of Photoshop. After creating the logo, copy the image of your screen by pressing the "PrtSc" button of your keyboard. Then open up your Photoshop, then create a new drawing area by clicking "File" then "New". Then paste the screen image you just copied then crop and edit the logo. This technique will only work if you don't need a high quality logo resolution for website use.  But I guess you have to buy it if you will use it for printing large banners or tarpaulin for your business.
I have tried other free logo creating websites but I don't like results so I preferred logomaker.com. If you have tried other free logo creating websites, please share by commenting below. Thanks!