Eco Friendly Clothes Hanger for Advertising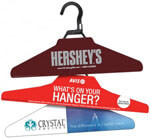 I was searching of a good advertising medium that is not very expensive and I read in a magazine about a clothes hanger that are used to advertise companies and businesses. I'm not sure if the company producing such clothes hanger is the pioneer and maybe someone have already thought about it. The company was Hanger Network founded by JD Schulman  in 2003. The hanger was made entirely from recycled, heavy duty coated paperboard (of course the hook was recycled plastic for durability).
The idea is those hangers are given free to dry cleaners and advertisers shoulders the cost which in turn have their company  logos on those hangers. Since seldom will people reject freebies, then it isn't hard to distribute those hangers. This is a very good idea from an American that we Filipinos  can duplicate if we are planning to have other advertising medium we want for our campaign. Since those hangers are for dry cleaners only because it is made from recycled paper, how about making a water proof clothes hanger too? items like soda can could be a good material.
There are already many laundry shops here nationwide that we can tap with this kind of advertising medium and  this could be the business idea that you are waiting for.