Benefit of Trade Fairs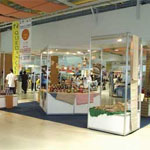 A Trade Fair is an organized exposition of products and services of a particular industry; an event where innovative people and ideas convene. Entrepreneurs would do well to join one.
A trade fair can be an entrepreneur's dream or nightmare: there are a myriad of business opportunities as well as dozens of competitors, all under one roof. While joining a trade fair may be costly, there are several advantages. What benefits do I get from joining trade fairs? Trade fairs are venues to put your products and services on view for would- be customers. These are professionally planned events and are well-advertised not only through the tri-media, but also through the internet, thereby reaching a wider audience. Because the fairs are specialized, you are ensured of interested attendees. Allowing them to sample or try out your goods will give you instant feedback. You can further assess your market position and gather information on business refinements that have to be done. Finally, joining will allow you to connect with possible investors.
How will this help my business? Exhibitors and attendees alike have one thing in mind, and that is to do business. With your wares showcased in a hall full of business people, you have a great chance to promote your products and increase your network. Attendees in trade fairs are more likely to listen to your business pitch because knowing more about your business is exactly why they came to visit. Use this to your advantage.
How can I maximize my time at a trade fair? Trade fairs are not one-dimensional. Aside from putting up booths you can also join other activities: seminars conducted by experts in various fields; discussions of the latest innovations that may be applicable to your trade; you can even arrange to be one of the resource people, and promote your business.
You should also be on the lookout for possible business gains by visiting the other booths. Trade fairs are the easiest way to do market research and you may be able to hook up with other entrepreneurs to expand your business.
What should I bring to a trade fair? When an attendee steps into the trade hall, he is presented with a number of booths offering similar products and services.
The challenge is to make your booth grab his interest: and make him remember you when he leaves. Some things you should prepare include:
Arresting visuals. Visuals are the best way to convey what you are selling, even from a distance. Posters, tarps, product displays, audio-visual presentations-make sure the visuals you choose adequately represent your business and give pertinent information.
Loot bags or kits. The best way to advertise your business-is to let your customers try your product. Hand out samples, and make sure to include flyers or brochures and other freebies.
Calling cards. If you cannot present them personally, make it convenient for the attendees to get one as they go. Also place a fishbowl on the both table where attendees can leave their cards as well.
Someone from your team to help you. Bring someone who can answer questions and deal with customers. Make sure that you and your team dress appropriately. Remember, you are what you sell.
Source: Masigasig Magazine