Customer Loyalty: Do's and Don'ts
Implementing customer loyalty programs is one the oldest and most effective marketing strategies. Rewarding your customers for constantly patronizing your brand is among the best ways to build and nurture a strong relationship with them.
However, as with any marketing tactic, there is a right way of doing it, as not all loyalty programs succeed. Sometimes companies launch them without having a full understanding of their motivations and goals for doing so. As a result, they miss the value and benefits that it should have reaped the businesses.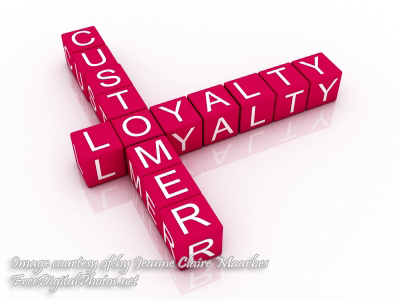 Here are some of the do's and don'ts that you need to keep in mind in executing a customer loyalty program:
DO: Simplify the Sign-Up Process
Provide your customers a short and simple signup form and make sure that the mechanics are easily understood. The process of earning points and redeeming rewards shouldn't be hard either. Don't make your customers feel that they have to work too hard to reap the benefits.
DON'T: Complicate the Process
Customers understand that they need to do their part and participate in the process before they get rewarded, but don't make it too complicated making it seem that rewards are almost unattainable.
Customers sign up for loyalty programs because they can potentially save money, but if they feel that it will take too much of their time and make them spend more than they are willing to shell out, you'll easily lose their interest in your program.
DO: Communicate the Program to All Departments before Launching It
Communicate to all departments the goals and mechanics of the program. One of the problems that crop up in loyalty programs is the lack of awareness and proper orientation of some employees.
This can lead to a breakdown of the process and the customers getting confused about how the system works.
DON'T: Be Passive towards Your Customers
Employees' lack of knowledge and understanding of the program can sometimes cause them to be passive towards your customers. The last thing you want is for your customers to feel belittled and disrespected for joining your rewards program.
DO: Invite Customers to Participate in Your Program
Promote the program to your customers, whether through traditional advertising or different online platforms, but go beyond merely posting announcements. Send emails, connect with them, and explain the process and the benefits thoroughly. Do a trial run and ask for feedback before you launch. This way, you can polish your program before going full blast.
DON'T: Expect Customers to Volunteer in Your Marketing Campaign
Most customers will not volunteer to participate in your marketing campaigns unless they have a full understanding of what it is and how it can benefit them. Some of them may not even be aware that you have a loyalty program going on. So, go to them and take time presenting it to them.
DO: Give Rewards Tailored to Your Customers' Needs
Do your research. The most effective loyalty programs are those created to serve their customers well, and significantly reward them too.
DON'T: Reward for the Sake of Rewarding Your Customers.
Key chains and mugs are fine, but you can do better than that. Show your customers genuine appreciation for their continuous loyalty. Give them something they will really be happy to receive.
The more they feel connected to you, the more you'll be able to build their trust.
DO: Create Business Goals for Your Loyalty Program
If you want to experience the full benefits of your loyalty program, draw business goals for it. Track metrics and evaluate data to measure its effectiveness based on your goals.
For example, are your customers coming back? Are they promoting you to their friends? Through the gathering of data, you'll get to know your customers better and be able to create more programs that will suit their needs.
DON'T: Launch a Loyalty Program without Goals
You need to have goals to measure the success of your marketing strategy. Marketing is more than just taking note of the increase in sales, but also about having a better understanding of your market and being able to provide them with service relevant to their needs.
The Most Loyal Customers Are Not after the Bonuses
Nothing can be more valuable to your marketing than happy and satisfied customers. These people end up promoting brands they trust regardless of bonuses and extra rewards. So, it's important to build on that connection. Customers tend to gravitate towards brands that value them and listen to them, so make your loyalty program about them.
Author's bio: Apple Pineda has served a number of clients as a content marketing specialist for 3 years. She's a wanderlust in the making, often seeking adventures to live life to the fullest. She's a writer for avail.at, a company that specializes in digitizing rewards programs for your employees or customers.