eBay Payment Solutions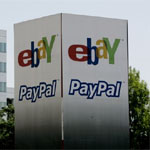 Selling and buying on eBay is fun and most of the time you can get an item for bargain and sometimes hard to find items. But recently I encountered a seller that only accepts GCASH which is definitely forbidden in eBay because it is the same thing as Western Union and Money Gram. Sometimes I fall into temptation on asking bidders to pay via GCASH but when it comes to me being I buyer, I doubt if the seller is a scammer or not. But if the seller have a good reputation with a least 50 feedbacks and all of them are 100% positive or with just a tiny percentage of negative feedback, then maybe the seller can be trusted. But if the seller have only 1 feedback or worst, a zero feedback, then you know what to think. He or she's maybe a scammer. It's also hard to sell a pricey item if you are a new member on eBay.
You have to build your reputation first by having as many feedback as you can. One trick I know is try selling items less than a thousand pesos. This way buyers will not have a hard time to think if they would buy an item let's say 5,000 pesos or up. If the buyers really need the item, they would risk a certain amount that seems to be not as big as 5 to 10K. But eventhough many eBayers get away with payment methods not permitted on eBay, they are not protected by eBay's Standard Purchase Protection Programme (SPPP). You'll be reimbursed up to a maximum of P 11,200.00 (less P 1,400.00 to cover processing costs) but requires that you pay the item with the payment method allowed in eBay. I think using other payment method such as those quick money transferring service will leave you unprotected.
The payment method allowed in eBay are:
PayPal
Personal or Cashier's Cheques
Money Orders
Bank Deposit
Bank Deposit Express
Cash on Delivery
I see many sellers in eBay Philippines don't have a Paypal payment options. Maybe they are not aware that you can transfer your funds to your local bank account (with a reasonable fee) or just not interested because of the additional charges when using Paypal. But if you are an eBay seller and want a legitimate paying method accepted worldwide and in a secure way, then visit this page: How to Sell Using PayPal.
To register on Paypal you need a credit card and a bank account. But if you don't have a credit card you can get Union Bank EON which works like a credit card but you have to fund it by depositing some amount. The yearly fee is only less than 500 pesos which is less compared to credit cards membership fee .
Selling using Paypal will make you legitimate even if you have few feedbacks and sell valuable goods. Because Paypal has a buyers protection program too and they can even hold the payment then release it after the buyer gets the puchased item. But what if the seller doesn't offer Paypal? you can check this page: How to Pay Using PayPal which will instruct the buyer how to pay securely without worrying what will happen if they pay for the item and didn't receive the goods.