Ebay Seller Feedback
If you are an Ebay Seller, one of the worst (I think) changes is the inabiity of a seller to give negative feedback to buyers. Just recently, I've experience a rather new trick of those fraud buyers. When he bid for an item and won, the buyer pretends that he is not receiving any response from you. Probably the buyer realized that he really didn't want to buy the item because of the costly shipping charges involved. Either the buyer was too proud not to apologize to the seller or just wanted to play around.
One of the known fraud bidders or buyers is a joy bidder who just bid and kiss the item goodbye. But the one that pretends that he is serious and send you email that he is asking how to pay for the item or wants to do meet ups but pretends that he is not receiving any response from you is I think a new kind of Ebay prankster. Then he will give you a negative feedback that you relisted the item or accused you that you did not sell the item to him. If you have been a victim of these kinds of bidders, go here >> Resolving Feedback DisputesYou
You can also contact Ebay customer support to remove the negative feedback or for the meantime make a reply to the negative feedback you got to counter it by going here >>  Follow up on Feedback Left for Others.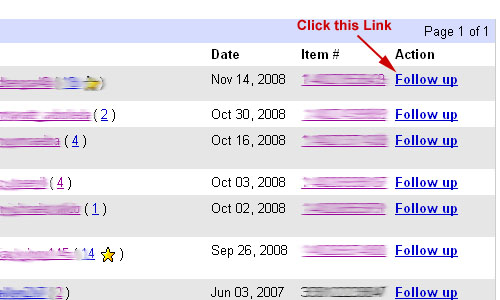 Click the link "Follow up" on the action column and make a counter feedback.