Featuring Binalot on Kabuhayan Swak na Swak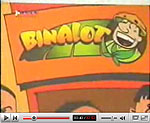 I have posted the success story of Rommel Juan before, the owner of Binalot but it is better if you can see him on video (see below). Kabuhayang Swak na Swak featured him and his business and I have noted some of his advise and story about binalot. Although he attributed his success to hard work, he still believe in luck like most true entrepreneurs. He said his concept of binalot was immediately accepted by the market probably due to luck and he have made it in the right time. It's being in the right place at the right time.
And his advise to budding entrepreneur, you should look for your passion. "What is passion?" he asked " When you wake up in the morning and really excited to go to your work or venture, that is passion and then when you decided to start the business, go for it!
Click the Video Below And Watch!