Markus Frind of Plenty of Fish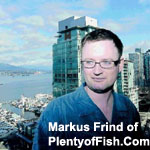 As I've read in blogs and news portal in the  internet, Plenty of Fish is the largest dating site in the world with 1.6 billion pageviews a month. It was run by Markus Frind all by himself without managers or supervisors to assist him. He only have 3 assistants to serve as customer service but I think this can be easily outsourced and still he can do it all by himself. You can read many stories about him and his online dating site and why he became so successful but I just wanted to focus on his not so ordinary thinking of running his dating site. One thing I noticed is how he decides on feed backs made by his members. Many thought that customer feed back is very important in improving our businesses specially in the internet world. But you know Markus have a different approach regarding this. On his interview, I took a quote on Inc.com on the article by Max Chafkin:
Frind has resisted adding other commonly requested features, such as chatrooms and video profiles, on the same grounds. "I don't listen to the users," he says. "The people who suggest things are the vocal minority who have stupid ideas that only apply to their little niches." Instead, Frind has focused his energy on making the site better at matching people. When a member starts browsing through profiles, the site records his or her preferences and then narrows down its 10 million users to a more manageable group of potential mates. "Users never see the whole database," Frind says. "It gets smaller and more focused on what you're actually looking for." In other words, if you tell Plenty of Fish you want to date blond nonsmokers but spend all your time gawking at nicotine-addled brunettes, the program will adjust. "People think they know who the perfect person is, but that's not always who they really want," he says. Frind estimates, based on exit surveys, that the site creates 800,000 successful relationships a year.
The same thing in a business with regards to dealing with their prospects or customers. It's not enough that we gather feed backs because it not 100% reliable. People have an ideal but in most cases it's not what they really want. This is called Behavioral targeting. Again taking the definition from wikipedia:
Behavioral targeting uses information collected on an individual's web-browsing behavior, such as the pages they have visited or the searches they have made, to select which advertisements to display to that individual. Practitioners believe this helps them deliver their online advertisements to the users who are most likely to be influenced by them.
Online businesses have their advantages after all but I think this can also be implemented on offline businesses as well. For example if you have a store, sometimes people always ask if you have this item or that item but it's not what they really buy. So behavioral targeting can also be practiced on what people really buy whether they are buying because it is low cost or if they are buying because of the brand.
Building a dating site today can be very competitive because there are many online dating sites. But what matters is how you treat your business and your passion.