Sell Big on Garage Sale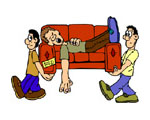 Over the past decade, the Bangkal strip in Evangelista, Pasay City, has become a favorite haunt of the cooler than cool for picking up castaway furniture and fixtures once installed in their art deco homes, these pieces are transformed from someone else's junk into items worthy of home magazine spreads. For those more interested in making money out of such furniture and the next time you're planning to hold a garage sale, include the Bangkal stores as potential advertising spots, as well.
Below are tips for anyone who wanted to sell their old furniture and fixture:
Traders arrive early. If you advertise your sale to start at 8, they will be waiting outside your gate by 7. As soon as they enter, they go for the big pieces most of the time. They already have a code among themselves wherein the first person to touch an item has first dibs on it.
They look for big pieces. Furniture, decor, lighting fixtures and other big items are their major bestsellers. (Big tip classic men's shoes are also
very sellable.)
Wooden furniture sell well. If you have old pieces from the 60's or 70's you'd like to sell, they command good prides.
Prepare your prices beforehand. It is better and faster if items are already tagged. It makes transactions faster. The buyers can just haggle if the price is too high.
Price per piece Buyers would rather buy retail rather than wholesale.
[tag]garage sale,filipino entrepreneur[/tag]