Success in Entrepreneurship: A Guideline if Having Your Own Business Venture Can Succeed
Have you been dreaming of all the free time you would like to have, no boss telling you what to do and becoming the next tycoon like Bill Gates or Lucio Tan? So you want to own your own business? Well, there is good news and bad news about being an entrepreneur.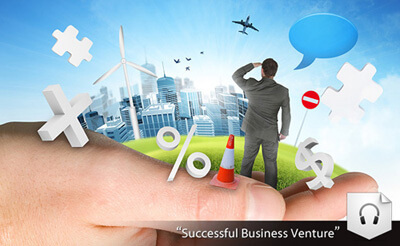 In America, according to the Small Business Association, only about 2% of the American population is emotionally and mentally equipped to succeed at owning their own business. Likewise here in the Philippines since we always adapt american culture is somehow similar to their fate. The only difference is we are a poor nation because of corruption.
Most people simply don't know where to start and what to do. Lack of security and probably fear are large contributing factors in preventing people from striking out on their own.
Good new! sky is the limit for a motivated, self-starter person who believes, have faith in themselves and their product or services.
A few guidelines below is what you have to consider when dreaming of owning your own business:
1. Targeted or Clear Objective
You got to have a purpose. You must know where you are and where you want to be. Write these goals/plans down. Remember, "In order that things can be managed, it could be measured." Those who write down their goals have a 97% better chance of success than those who don't!
2. Budget
Know how much you need to live on; estimate how much your business will cost you until it starts paying you back. This is what you call ROI or return of investment. (then double the amount of time you estimated and add 20% to your budget—it always takes longer and costs more than you anticipate!)
3. Plan
Not just a business plan, a daily, weekly, monthly, yearly plan. Remember " Failing to Plan is Planning to Fail" Then write it down or fire up your excel spreadsheet!
4. Keep your day job
Until your "dream job" begins to pay your budget items. It is better to build many safety nets just in case one of them fail. There was a saying….. "Don't put all your eggs in one basket". If you really want to leave your day job be sure you have a valid reason like for example your boss is a psychopath.
5. Meditate
Close your eyes, relax and program your subconscious mind to help you create the future in your real world that you create in your inner world. Spend at least 20 minutes a day doing this. It will take months off the time it would normally take to get your business up and profitable! Try it—this may just be the most important step. This is what you call the Power of Concentration.
6. Rent office space vs. home based
Try not to spend too much money before the business begins paying for itself. If you can start out at home, do it. As the business grows, you'll have to get more space. Do it then.
7. Hire a good Bookkeeper.
This may be your best investment. But I think this is not necessary if you have very small overhead like running a small online business. Have him/her show you how to set up your books (using Quicken or some other good software). You may think this is a frivolous expense, but it will save you many wasted hours and much unnecessary expense in the long run. Find a bookkeeper that specializes in small businesses—until you have to find one that specializes in large businesses!
8. Rent from MD's or corporate boardrooms.
If your new business involves after hours classes, you can often rent space in the evening from existing businesses. That's a win-win situation.
9. Check out "Business Opportunities" if you don't know where to start.
They are often much cheaper than franchises and offer you freedom and guidance.
And, finally, always remember, the first goal of a business is to stay in business; the second goal is to generate money!