What is Twitter?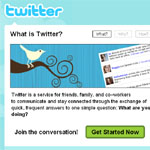 Twitter is becoming a favorite of online entrepreneurs and online marketers nowadays because it is a useful tool for communicating to audiences and customers. The cold corporate face of a website is not very effective anymore since the emergence of the Web2.0 (the fad of social networking). Businesses should be more transparent in order to be effective these days. What is twitter anyway? there is no definition I found better than in Wiki:
Twitter is a free social networking and micro-blogging service that allows its users to send and read other users' updates (otherwise known as tweets), which are text-based posts of up to 140 characters in length.
Brad Callen, an internet marketer has this statement in his newsletter:
Hey Lito, as 2009 is quickly approaching, there's 1
thing that I see as becoming critical to our businesses.

… and that one thing is to "become more transparent" with what
we're doing in our online businesses.

As the internet grows and develops, one thing is becoming
evident. We cannot ignore the fact that social media is taking
over the internet.

It's no longer enough to have just a one way communication between
product owner and customer. In my opinion it needs to be a 2
way conversation.

A 2 way conversation where you get to see what I'm doing,
working on, etc. each day, and vice versa.

In 2009 it's my goal to become closer friends with everyone.

I can't stand the "big business" mindset, and hopefully you can
tell that I like more of a "personal approach".
How to Twitter
If you don't have a twitter account yet, you can follow me here >> http://twitter.com/LitoMontala and click "Join Today!"
After signing in, find people who already have a twitter account by clicking "Find People" link or go to http://twitter.com/invitations
Search for a username, first or last name by typing it in the box shown on that page. If you want to add friends you don't know, you can follow other people on twitter. If you want more details, just follow here >> http://twitter.com/help/how