Pinoy Delikasi & MyBarong.com Featured in Mely&Joey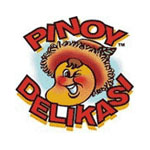 I think the Pinoy Delikasi is not new to us because as far as I remember it was already featured by Korina Sanchez in her program. Maybe I'm mistaken, maybe it was featured in another program. But last night it was featured again in Mel&Joey and the name of the owner is Jovelito M. Cipriano. Jovelito not only built a successful business, but also created a multi-award winning e-commerce model. I really admired that guy and envy a little bit because that was the kind of business I wanted to start. An online business selling Philippine native delicacies. In fact, before I discovered his website I've been making sites that sells pili nuts, dried fish like danggit, dried fruit preserves but it didn't work out because I was really newbie in website making and it requires a big capital to start that online business to successfully run it. You have to have a merchant account so that customers can purchase online. Payment by credit card will make the transaction faster because customers have what we call "impulse buying" which will help to prevent that second thoughts. And during that time there were no local merchant account in the Philippines for online business. So the only solution then is thru western union, direct deposit to your bank account or some other means to pay you. Paypal was not useful that time and it's only last year that Paypal announced that you can transfer your funds thru your credit card.
Another thing is you need to have at least an inventory to sell online so again it requires a capital. Maybe contacting manufacturers of those products and offer consignments will work but I think at least you must have a capital to pay them when it is already due. And since the payment is by credit card, the mechant account provider will transfer the money paid by your customers to you after a month via check. I was employed that time so I really can't handle that. It's easier to just make a website and have affiliate programs to earn which requires very little investment.
So that was then, but now we have Paypal. Just register and you can now accept payments local or international using your customer's credit cards. All you need to do is have an e-commerce website, the one with an online shopping cart and you now can start selling. There are many free software for online shopping cart now which are not available before. They cost a fortune in the past but now you can find a simple free demo type which you can play around.
And also, another e-commerce site was featured selling barong (Ernie's barong? may biyak sa likod, he he joke lang), the Mybarong.com. The couple running the business was featured and they say they are the only site that sell barong tagalog. What a creative idea indeed! cheers to our online pinoy entrepreneurs!