Puke Pets – Cool Business Ideas This Christmas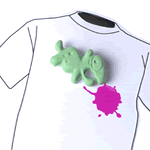 I don't know if this idea will work for us pinoys since we very cautious when we get stains in our clothes. Specially this coming Christmas and New Year we will indulge in many kinds of food. I found a website selling Puke Pets in UK. It looks like plastic or rubberized dog shaped safety pins that looks like it puked on your clothes camouflaging the stains. You can use indigenous materials like coconut shell or capis and put a safety pin on the other side.
Anyway this is the description of the product from Lazybones:
Lazybones: If you're the type that decides to get dressed for that special occasion before eating and then have to get changed due the food not quite reaching the point of entry and instead creating a nice stain on your best top, then the Puke Pet is your savior.
Just apply a Puke Pet next to the 'spag bol' stain and you now have a sort of purpose made stain. The stain will not look as though it's meant to be part of your shirt. If you're really clumsy and manage to spill the whole plate all over your nice clean top you might want the triple pack or just be better off with a bib or even eating naked.
So if you know someone that has problems with getting their food from the plate to their mouth then maybe this is the answer they have been looking for.
This is a sample picture on how it will look on your shirt: