Christmas Business Idea Making Recycled Metal Ornaments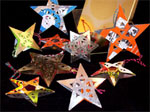 During the holiday season ornaments tend to be a great conversation topic and not just used to decorate the tree. Whether you collect them while you are traveling, create a specific color or theme, or have a growing family tradition that has been passed down through the years, metal Christmas ornaments can be a perfect addition to any holiday decor. Hang them from the ceiling for a Holiday party, or on a garland for the mantle.
You can be environmentally friendly and keeping the environment in mind this holiday season by making recycled metal ornaments. This is a good business opportunity too this coming Christmas.
How to make it? it all depends on your creativity.
Things You'll Need:
Sheet metal
Snips
Pliers
Paint
Sealer
Marker
Gloves (optional)
Step1
Gather your metal. Sheet metal can be found at salvage yards, construction site dumpsters and hardware stores. Go for smaller pieces that will be easier to work with. If the metal is curved, flatten it by laying it on the ground and walking on top of it.
Step2
Draw an outline of your ornament. Use a fat marker to draw a rough outline of your shape. Since the metal can be cumbersome to cut, don't fret if you don't follow the outline exactly, but it will give you a rough idea of where you need to cut.
Step3
Snip away. Starting at one corner of the ornament, snip around your outline. Leave a long tab sticking out at the top so you can hang the ornament with ease.
Step4
Fine tune any rough edges. Do a once-over with your snips to cut away any shards sticking out. You also can use a rough sandpaper to smooth the edges.
Step5
Paint and hang. Spray paint works well on metal ornaments. It's quick and you can blend several hues. Use an outdoor paint for outdoor ornaments. Spray with a sealer, such as polyurethane, once the paint is dry for added protection.
Tips & Warnings
Bending the metal can add some life into your ornament. Slightly bend the edges for a smooth effect. Bend the ornament's arms, legs and other appendages.
Sheet metal is very sharp. Be careful while working with it. For added protection, don a pair of gardening or other thick gloves to avoid getting cut.
Immediately clean up any loose metal shards so they don't hurt dogs, bare feet or small children.
Don't play with metal that has been laying around in direct sun. It will be hot.
Source: eHow.Com