Are We (Filipinos) Ready For E-Commerce?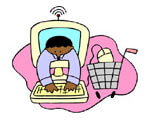 Many of our fellow Filipinos has already entered the world of e-commerce and we see such successful ventures as Pinoy Delikasi, Divisoria.com, Kabayan Central, K9 Couture and others I seem to forgot already. Those online businesses have passed through the seemingly impossible business on the web selling goods via the internet. Why impossible? First, when you observe online businesses in the U.S., most of them target their customers within the country because that is convenient to them. The standard of living compared to the Philippines is miles apart. So many people there have a better purchasing power and with that, you can assume that many people are credit card holders. Why credit cards are important? In online business, that's the easiest mode of payment to hasten the transactions. Also, Paypal have contributed much in the development of eCommerce. By using only your email address, you can send or receive money online.
But still, the availability is primarily in the U.S. and if you don't have a credit card, you still need a U.S. bank account to fund your account for your purchase or shop online. So in the U.S. or maybe in other industrialized countries like Europe, it's not impossible to establish an online business. In fact, most brick and mortar (Physical business) businesses there are curling up due to the booming of e-commerce. It is cheaper than renting a space, hiring a salesman and paying for utilities which will balloon your overhead expenses and you can also sell your products cheaper. The buyer is also the one who pays for the shipping cost. And not to mention, some shrewd customers just go to the physical store to see the actual item and use the salesman's time for inquiries then go home and buy on the internet.
Now comparing the situation in our country where people in the upper class are only a minority, how can an e-commerce survive? If you don't believe me, then read this in the Inquirer news: Rich-poor gap widens in RP — official survey Only 10% are those in the rich minorities and 1/3 of the total income of our country comes from the 10%. So that means 90% are sharing the 2/3 of the total income and that includes me. Back to e-commerce in the Philippines, so how on earth will you establish an online business selling goods if you only target the local market? Since purchasing power is weak on most individual, not everyone can afford to have a computer and an internet connection and credit card owners are not as much as in the developed countries.
So maybe the answer is exporting and your market will be worldwide selling Philippine products which limits you to only sell in large quantities because shipping just a few items or retailing in other countries will cost too much and buyers will avoid it. But did I say that it's not feasible to target your market locally in e-commerce? Actually with those facts I've said it is still encouraging to start one because everyday there are people being added on the internet and that includes our kababayans (countrymen). Internet access is also becoming more affordable and there are many payment options now like Globe G- Cash, Smart Padala and Paypal.
Have you heard or know Puff Mommy ? I would like to mention about a site that sells cream puffs featured in Kabuhayang Swak na Swak. I was really amazed how it was accepted in the online local market due to the fact that there are many brick and mortar store that sells baked goodies. I thought it was a fully automated shopping website with a shopping cart but when I visited the site, it was just a catalog which visitors can post comments similar to a blog (puffmommy.multiply.com). Multiply.com is a video and blogging site like Myspace and Friendster but focused more on more intimate networks of friends and family.
So like any other kind of businesses, trust is the most important even you don't have a ecommerce website equipped with a shopping cart like this one www.shop.filipinovegetarianrecipe.com. It's easier to sell to those who have already build trust on you than a total stranger so maybe building a network of those closer to you and the "word of mouth" referral advertising will take care of itself. So again it proves that with creativity we can do amazing things that will help us in our success.