Make Money Online
The term "make money online" is very popular in the internet. Why is it? just check it out on Google Trends. And in today's economy, I assume that those who will be interested will increase dramatically due to the Global financial crisis. But that is only an opinion. If you will check Google trends again you will notice that in year 2008, the increase is steadily climbing comparing it from the previous years. But it is still a mystery to me why Nigeria is on the top of the list (see regions).  Look at the trend below: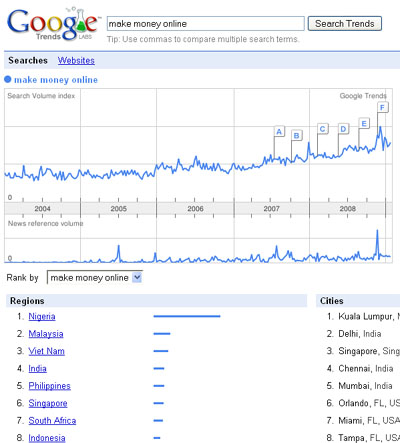 There are various ways you can make money online. A few examples are selling stuffs on eBay, encoding, accepting freelance jobs like website design or programming, writing articles for blogs, selling advertisements if you have a blog (or website) and charging membership fee if you have a community websites and so much more. Even job opportunities can be under that category if you got the job online, isn't it? Big or small businesses have one thing in common, they all "make money online".
I don't know if I'm the only one who assume that the phase "make money online" means that we get money directly through the internet. But come to think of it, it can also be used as a term for "make money" thought "online" which can also mean that we get information from the internet on how to make money and use it "offline". One good example is searching How to Make Hand Sanitizer.
Although hand sanitizers can also be sold online, the blog or website who have that information is helping people how to "make money" and got the information "online".  So if you saw a blog or website that have in the title tag "make money online" but don't have much tips or tricks on how to make money directly using a computer, you can always assume that the term is very broad as long as you can see articles on how to create income either online or offline.  Anyway I'll also be adding some post on making money online using your computer like where to find affiliate programs and some advertising optimization tips on your website.