The Way Marketing Was Changed by The Internet
For over 20 years the internet technology has been available for everyone thanks to CERN. The transformation of the Internet during this period is amazing. Today we can see other people's photos, stay in touch with relatives and friends, enjoy all the silly thing our pets can do, and even buy stuff and not leaving home at all. The last one, the possibility to buy things online has changed marketing for good.
In order to grasp all the benefits of the digital surrounding and the new way people use to buy their products, businesses had to change their complete marketing strategy. Those who tried to avoid this quickly lost a big part of the market.
Now, let's check the ways in which the Internet had changed marketing
Blogs and Websites
Setting up a website is a piece of cake now, and this is the reason why many businesses are using them to reach their audience and present their products in the best possible way.
Usually, when someone has a problem, he or she starts looking for a solution online.
People today, want to get information quickly and they use the internet to do this. So, if your company doesn't have a website, you are practically invisible, since it may be difficult for your audience to find out more about you and your products.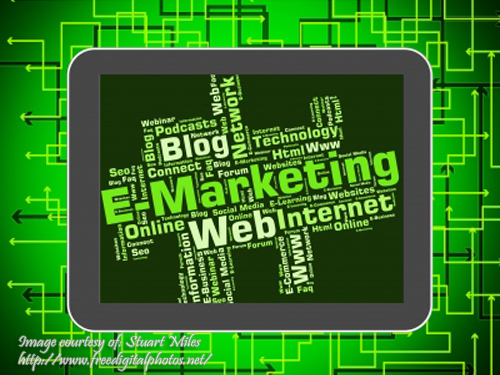 Reviews
When a person wants to buy a certain product, in most cases he or she will try to find a good number of professional online reviews and read some user experiences before they decide to make the purchase.
These reviews can be found easily on various websites that actually sell the product we are interested in, review sites, blogs, Facebook, YouTube and so on. In most cases these will help us make our decision.
At the same time, these websites have to be mobile friendly because many users today use their tablets and smartphones to browse the internet. As you can see, businesses have to be always alert and keep in touch with the current technology trends.
Online Stores
If we didn't have Internet today, ordering presents online, buying books and DVDs and read or watch them immediately after the purchase would be impossible.
Such online stores made it possible for business owners to avoid the costs of owning a store, and as a result the products sold in such stores are cheaper. At the same time the online store is much more exposed to people than the normal store. Another advantage is that the business gains more exposure and people still buy without leaving their homes and save money at the same time.
Online Advertising
Since the launch of AdWords, a platform which enables the businesses to advertise their products based on search terms people use to find info about the products they like and the websites they go to during this process, many thing s have changed. Business owners can now advertise on social platforms, devices, applications and so on. The good thing is that now business owners can target their audience by gender, age, internet searching habits and many more.
Social media marketing
Another excellent way business owners can exploit to market their products is the social media. The social media today is also used as a customer service. This means that buyers can quickly present their problem and get a quick solution without the need to send emails or making calls. Quick response rates make the company look more reliable and trustworthy.
Email marketing
Without the internet, email marketing wouldn't exist. Most companies today use email marketing to inform their customers about specific special offers, the launch of new products, recommend products according to earlier purchases, educate the customers about their products, and so on.
Analyzing the online marketing activities
When it comes to Internet marketing the best thing is that you have the possibility to track all your activities and see which of your internet marketing activities perform well and which give no results. You can also find out how to improve these and take your marketing efforts to a completely new level.
As you can see, the overall marketing strategy has changed drastically thanks to the internet. The buying and selling processes have also changed and will continue changing and evolving in the future as well. The businesses who follow the latest marketing trends will survive, others will stay behind.
Author Bio
Hi, my name's Bridget Jackson. I am interested in writing about computers and networking. There is a solution for every problem and I love writing about them. If you are curious about the IP 192.168.1.1 make sure to visit my website 192168ll.net