Older People are Flocking to Social Media Like Facebook and Twitter
Have you seen the TV commercial of Lola Techie? well I think this is not a joke anymore seeing senior citizens or middle aged people enjoying social networking sites like Facebook, Twitter, Friendster, Linkedin and Youtube. The trend in the U.S. is older people are now flocking to social networking sites and you know that most of the time we Filipinos are followers of the U.S. trend.
Why I said that? it's because few years ago Friendster is the number one social networking site among Filipinos but when Facebook became popular, many of us specially the youth flocked into facebook.
Quoting from a survey of PEW internet titled "65% of online adults use social networking sites ":
among the Boomer-aged segment of internet users ages 50-64, social networking site usage on a typical day grew a significant 60% (from 20% to 32%).
The survey asked 2,277 adults (age 18 and older) between April 26 and May 22. What they discovered is that internet users aged 50- 64 jumped to 32% that is 60% of last years number which was only 20%.  So what does this mean to your business? it means that social media should be in your marketing strategies whether you have your own website or just a facebook fanpage.
Presently, the facebook users here in our country doesn't have much older people and most of them are young adults and teenagers. The age distribution of facebook users are the following (from www.checkfacebook.com – September 3, 2011):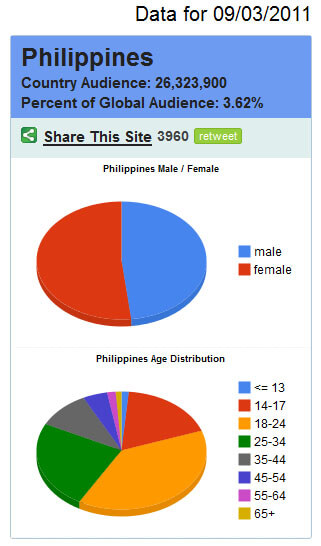 | | | |
| --- | --- | --- |
| Age | Number of Users | Percentage |
| 13 and below | 365,620 | 1.40% |
| 14 – 17 | 4,782,960 | 18.20% |
| 18 – 24 | 10,166,200 | 38.70% |
| 25 – 34 | 6,347,940 | 24.10% |
| 34 – 44 | 2,683,600 | 10.20% |
| 45 – 54 | 1,229,020 | 4.70% |
| 55 – 64 | 430,160 | 1.60% |
| 65+ | 292,080 | 1.10% |
| | | |
| --- | --- | --- |
| Gender | Number of Users | Percentage |
| Male | 12,602,080 | 48.20% |
| Female | 13,522,120 | 51.80% |