Search Engine Marketing
Do you know that marketing through search engines is a new way of reaching people looking for specific products or services via the internet?
If you want to give your business the power to reach potential customers anytime anywhere in the world for a little as five US cents (about P2.50) per customer, then you should seriously consider doing search engine marketing (or SEM) sometime soon.
What is search engine marketing? simply put, SEM is an internet marketing tool that works to make your product or service website appear among the top 20 search results delivered by a major search engine when a potential customer uses it to find suppliers of your kind of product or service. The major search engines are, of course, Google, Yahoo, and Microsoft Network (MSN), which together account for over 80 percent of all search engine-originating traffic (see chart for year 2008).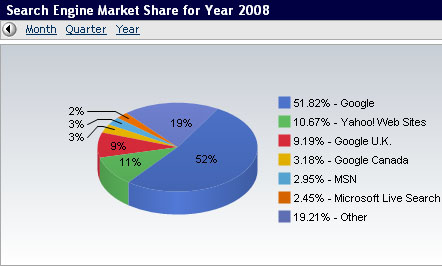 Other than the three major search engines, there are smaller search engines that focus on niche industries, such as the Kayak travel search engine (www.kayak.com), and country-specific search engines, such as Baidu (www.baidus.com), which is very popular in China.
In the Philippines, the closest thing we have to a search engine is Yehey (www. yehey.com), which is technically not a search engine but is more of a portal. The prospects of SEM as a marketing tool are very promising. A study released in November 2005 showed that the use of Internet search engines to find information on the World Wide Web already occupied a soled No. 2 spot after e-mall as the most popular activity on- line. Just to give you an idea of the magnitude of search engine activity, a total of 250 million searches were made daily in the year 2003 on Google alone! indeed, as Internet "spam" or unwanted e-mail continues to whittle down the effectiveness of e-mall as a marketing tool, search engine marketing is increasingly becomes the marketing strategy of choice for companies that need to reach a global audience. SEM is taking on a much greater role in helping businesses connect with potential customers, particularly at that crucial point in the buying decision process when they want to find particular products or services. For example, based on search engine data, over 600 searches on the Web were made for the keyword "wedding planner Philippines" in December of 2005. Thus, if you were a wedding planner based and operating in the Philippines and you were able to get the attention of those searchers and converted just 3 percent of them into buyers; you would have gotten 18 weddings to plan in 2006- all because you used search engine marketing! The objective of SEM from the standpoint of your business is simply this: when potential customers type in the keywords for a product or service search and press that "search" button, they should find you instead of your competitors on top of the search results. This is very important because as studies have shown, searchers rarely ever look beyond the top 20 of the search result listings.
How to appear on Search engines
For your business to appear on the search engines, however, you must first put up a website of your own. If you still don't have one, have one designed now by someone who has a decent understanding of search engine optimization or SEO.
It cannot be over emphasized that a well-designed website is crucial to SEM success. A company website that's so badly designed from a SEM perspective won't be found by searchers even if they searched for the company's name itself. As important, the design of a company's website shouldn't be so complicated as to make it difficult for visitors to execute a transaction with the company.
To a great extent, the design of your website will also influence your search engine rankings. Simplicity and functionality is the name of the game in SEM. Thus, if you have a home page lovingly adored with Flash animation or a similar razzle-dazzle feature, get rid of it now. Search engines rely almost exclusively on text to determine the relevance and ranking of your Web page to a particular keyword.
Basically, there are two ways to get your website to appear on search engines. One way is to get the site listed on the "organic" or natural search results; this is called search engine optimization (SEO) mode. The other way is to launch a pay per click (PPC) campaign for the keywords, say "Wedding planner Philippines," for which you want your website to appear each time a searcher uses those keywords.
When you solely do a SEO campaign, you would need anywhere from several months to over a year be- fore you can get your website within the top two pages–of the search engine results page, or SERPs. In contrast, a PPC campaign can start driving highly qualified traffic to your website almost instantly.
Depending on your budget, therefore, it would be desirable to do both a SEO and PPC campaign. The thing to keep in mind is that getting your website listed among the top 20 results will be a constant battle, particularly since you are in a highly competitive industry and your competitors are also actively doing the same thing.
How PPC campaigns work
Pay per click or PPC campaigns are basically text link ads-more commonly known as sponsored links- that appear alongside the organic search results. In PPC campaigns, you pay the search engines only when some- body actually "clicks" on your PPC ad, and not every time somebody sees it. You can control precisely how and who gets to see your PPC ads and, most important, how much to spend for them.
Another advantage of a PPC campaign is that it costs much lower than traditional advertising. You can actually start driving highly-qualified visitors to your Web site for as little as US$0.05 (about P2.50) per click on both Google and MSN and US$0.10 (about P5.00) on Yahoo.
Better than traditional marketing media also, when you use traditional marketing media such as FM radio, or print for your advertising, it is almost impossible to track how well your sales increases are directly influenced by your ads. With search engine marketing, however, you have a way of knowing precisely how much you are spending and how much revenue you are getting for each advertising peso spent. And through Web analytics such as the very popular one provided by Google for free, you can even find out precisely where your customers are coming from anywhere in the world.
All of these capabilities-tightly controlling your marketing expenditure, closely tracking your campaign's performance, clearly identifying and targeting your market, achieving a truly global reach, producing precisely measurable results, and enabling an advertiser to make changes in the campaign on the fly-make search engine marketing far superior to traditional marketing media.
How effective is SEM (Search Engine Marketing)?
Apart from these features, the beauty of search engine marketing is that it allows your customers to find you instead of you trying to find them. Of course, the overall cost of a SEM campaign will depend greatly on its scope and extent. The more keywords and the broader the audience you want to target, the greater the cost-but the greater the benefit as well. So all things considered, maybe the more important question to ask yourself now is this: "How much is it costing my business by not doing search engine marketing?"
Source: Entrepreneur magazine