How to Customize Your Twitter Background
Branding is the most important part of a business. And there is no better way of accomplishing it than by free. Yes, you can make our own branding without any advertising cost. Today, or I mean in this later part of the year twitter has became so popular that many people are now having a twitter account. Many internet marketers are making the most of this new fad and the popularity  is now second to Google search. Twitter is the simplest from of blogging that is why it is called "micro-blogging". Having a twitter account is very easy. Just register and you already have a twitter account. But if your twitter account is for the sake of branding your business, you should give it a different approach. One is by customizing the twitter background.
Twitter Background Size
Its hard to tell what screen resolution  a visitor of your profile will have so it's hard to make a one-size fit-for-all twitter background measurement for your twitter profile. You can't just make your background size fit for the monitor you are using like for example, my screen resolution is 1440 x 900. I'm sure not every surfer in this planet uses the kind of monitor. Based on all my website statistics, the majority of users have a 1024 x 768 screen resolution and next to it is 1280 x 800. So we can now determine the twitter background measurements based on those statistics and we can now have an idea how to customize our twitter background. I don't know about the standard design on other graphic designers but what I have here is my own measurement based on the statistics above so the layout I suggest is the screen resolution of 1024 x 768. See the measurement below of the twitter background I created for this blog:
Sample layout of twitter background using a 1024 x 768 screen resolution monitor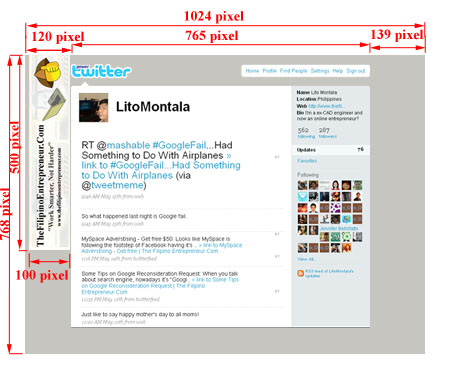 Just looking at the sample above will immediately give you an idea on how to customize your twitter background.
The dimensions are:
Width: 1024 pixel
Height: 768 pixel
Left sidebar: 120 pixel
Right sidebar: 139 pixel
Center twitter post: 765 pixel
Left Banner(logo): 500 pixel x 100 pixel
The idea here why the left sidebar has a width is 120 pixel is because the layout we used is 1024 pixel which has more users than other screen resolution. If we based our layout on bigger screen resolution for example 1280 pixel, and we placed our logo near the center twitter post, when someone is  using a computer using a 1024 pix, it will not be seen. But it can be remedied by placing our banner logo near the left side of the screen (see sample layout below).
And about the logo, I observed that using a banner less than 500 x 100 pixel is desirable.  If your logo exceeds 500 pixel in height, the broswer might not see all the logo and the surfer have to scroll down. Then that will be less points on branding your logo. It should be seen above the fold. Since the left sidebar has an allowable space of 120 pixel, and depending on the browser being used I assume only about 100 pixel will be visible. And the most important part, put the logo exactly at the top without spacing ( see sample above and below). Again so you can be sure that the logo is above the fold and will be visible right away. On the right sidebar, you can add your photo or other things you might like to add, like products you are selling or your own photo. Anyway it might not be seen if the screen resolution is larger than 1024 pixel but that crowd can still see it so why omit it? For the moment I was thinking what to put there.
Sample Twitter background viewed on a 1280 x 800 pixel monitor