Sample Resignation Letter is a Very Popular Google Search Term
Do you know that many people are searching for a resignation letter? the fact that you landed on this page means you are one of the thousands of people who are searching for resignation letter. Search in the Google Trend, you will find out what I'm talking about.You will be surprised because Philippines has the highest number of search for "Sample Resignation Letter". See graph below: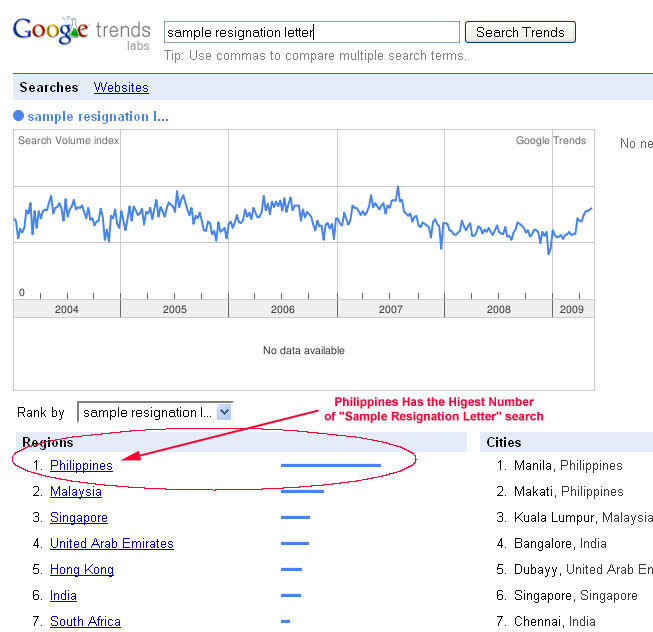 So without so much ado, I have a sample of  resignation letter. You can use it if you want and there are no strings attached.
To whom It May Concern,

I will tender my resignation effective (date of effectivity). Thank you for giving me an opportunity to become part of your organization and for all the experiences I've gained. I wish I could prolong my stay and be part of this company but I was compelled to seek a more challenging career. Nethertheless I will always remember the good things I've experienced here and treasure them.

Yours Sincerely,

(Your Name)

(Your signature)
I didn't have a chance to submit my resignation because I was retrenched, What I did is I emailed our president after nine months (because it was his birthday) just to say "happy birthday" and say good tidings with no hard feelings. This is a good way to build good terms in case you were retrenched. I understand the management even if my immediate superior was cruel, the higher management concern only is for the survival of the company. So in case you were a victim and wanted to build good terms, this is a sample of my email:
Dear Mr. (Company President),

Thank you for the past ten years of being employed in your company. I should have send you an email in March 2007 when I was included in the retrenchment but since I was emotional that time I might have said something I might regret. I always believe in the saying: "Don't make decision, when clouded with emotion, because it affects judgment".

I was sad because how I wish I have stayed and see SPT soaring again with success before I leave but I was not fortunate to see it. So again thank you and more power to you and wish you success. Also, I wish you Happy Birthday and many more birthdays to come.

Your sincerely,

(My Name)
Okay back to the resignation letter. You know, when I was still employed, specifically on my last employment, I made a resignation letter just three years after I was hired but I never had a chance to submit it to the management and it took ten years before I was set free by that company ( I was included in the job cut way back 2007). I'm sure I kept the file in my computer but I'm not sure where. Maybe it was in the office where I work previously. Never mind I can still recall those memories and the reason why I wanted leave. And it's because of a bully manager. There are many reasons why we leave employment. Some are bored with their job, for some, they can't take the pressure and the most fearful of all is having a bully manager. In my experience, I can manage to get through a boring job and can find ways to handle stress but a bully manager is way out of hand. Just say goodbye to your career and you will never get nowhere.
Let me share to you a comical paragraph I found on Steve Pavlina's article titled 10 Reason Why You Should Never Get a Job. Here is goes:
When you run into an idiot in the entrepreneurial world, you can turn around and head the other way. When you run into an idiot in the corporate world, you have to turn around and say, "Sorry, boss."
So I hope the reason for quitting your job is for searching a better career or a greener pasture and not having a nightmarish experience of a bully manager.