Kabuhayang Swak na Swak for Entrepreneurs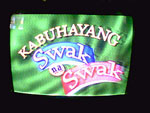 Kabuhayang Swak na Swak is produced by Bayan Productions, Inc and it has a show from mondays to fridays on ABS-CBN channel 2. This program has been running since last year or maybe earlier. I didn't have a chance to know or watch it because I'm busy with my work. The program is very informative especially to those who are thinking of setting up a business, to know some techniques on how to start one, tips and advise from established and successful entrepreneurs. If you already have a business this can also helpful if you want to expand or improve your existing business.
The show is aired about 8:30 A.M. (now, 7:00 A.M. on Saturday and 8:00 A.M. on Sundays) and most of the people are in their jobs so those interested will definitely miss it. But I've made some dedication to tackle it every time in my site so watch out and bookmark me. By the way the show is hosted by Amy Perez and Chase Tinio. So hope you will visit this site often to know about some of their shows and you will also view some segments on video. On my next post you can watch their show featuring 'Binalot'.
Update: The program Kabuhayang Swak na Swak have a website already which you can visit here: Bayan Prod. Inc If you need to contact them, just use the email address provide in their website. Please informed that this blog is not connected with Kabuhayang Swak na Swak. Thanks for your understanding.