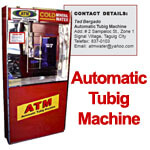 As I was browsing Youtube looking for KSNS (Kabuhayang Swak na Swak) episodes, I came across with a very nice concept of a water vending machine for the masses. Looks like a very old concept because there already vending machines for canned soft drinks, coffee, bottled mineral water and other stuffs I forgot to mention. But never have I seen a vending machine that you can buy water and bringing your own water container. Some advantages of this concept is a fast service where you don't have to wait for a long time just for a gallon of purified water and it is cheaper because there is no delivery and cleaning service.
But the drawback is you have to clean your own container first before bringing it to the water station vending machine. Usually, conventional water station will do this service for the customer. And if you just want to drink a glass of cold water, for only one peso you can (insert a coin) to buy purified drinking water with free small plastic bag and a straw.
For more info and to see the episode, watch this video after this jump………
Related Posts :
13-year Old Silicon Valley CEO of Elementeo

As I was browsing Youtube, I came across the video of a 13 year old kid who was already an ent ...

How to Make Fabric Conditioner (Fabric Softener)

Thanks to one of our visitor/commenter Ms. Berna Acha from Clean and Scented Store, I now have ...
By Blogsdna