How to Finance your Small Businesses without Loans
Whenever it comes to borrowing money, a bank loan is one of the most attractive options there is. There are very few hassles involved, and the payment amounts are fixed and convenient. While this may be applicable for securing personal loans and some other types, business loans are a whole different ballgame. You can't simply take an appointment, make a sales pitch, show your personal bank statements and acquire the loan. Most banks are weary of start-ups and SMEs, so they have strict guidelines in place. Most business owners have to jump through too many hoops, many of which are too stringent for them.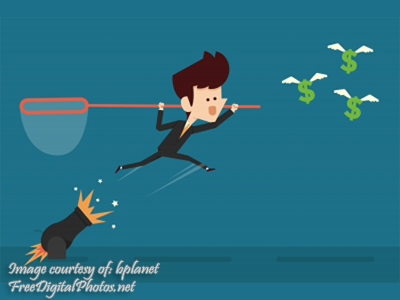 Hence, securing a business loan is a rather complicated process. However, all hope for the funds you need is not lost. There are a few interesting ways to procure the funds which do not involve borrowing from a bank.
Grants for Small Business
There are several grant schemes offered by local authorities, government or private agencies to help a person start his business. Although these may not cover the full amount that you would have expected, they are definitely a start and a good source as well. It is a great idea to do some research and find out exactly what grants are offered by agencies in your area, and whether you are eligible for the same.
Crowdfunding
The first thing you want to have for your business is something which makes your pitch worth it- a USP. This unique product or service can then be used to formulate a marketing strategy. Once this is put up for crowd funding, it will attract customers and investors and really show them the potential that your company has. It is a fantastic concept and it really helps. IndieGoGo and Kickstarter allow you to apply for funding in exchange for incentives on the products. However, if you are expecting wider growth, use equity crowdfunding from platforms like Seedrs.
Angel Investments
Any business which has good prospects for growth can opt for angel investments as a funding method. This really helps because, instead of pitching the company for what it is now, you are pitching the potential of the company, that is, what it can be in the next few years. All angel investors are usually experienced venture capitalists who understand that most start-up owners are inexperienced, and are still trying to find their way in the industry. They also know that sometimes these amateur entrepreneurs go on to rule the respective industries.
This may mean that they will be more patient with you, but does not mean that they will be giving away their money easily. You will still have to bowl them over with your idea and your expansion plan for the next few years. If they are happy with the projected image of the company in the future, they will put their money into it. You must conduct extensive research on sites like AngelList to locate potential investors who may be looking to invest in promising businesses in that particular sector. Refer to entrepreneurs you know who have raised funds in a similar manner and find out exactly what they did so that you are somewhat acquainted with the process. It could also be beneficial if they could hook you up with acquainted investors as goodwill goes a long way in the industry.
Alternative Lending
You'd be surprised to know that banks aren't the only financial institutions which give loans to businesses. There are several organizations which can offer you finance. There are some lenders who could offer you short-term loans using your stock or trading options. There could be business unions set up for the very purpose of providing financial assistance to emerging businesses.
The road is tough, but the road is rewarding. It's perfectly normal to fail the first few times, but once you do succeed in attaining funds, you'll be ready to face the world.
Author Bio: Bethany Williams is a financial guru and blogger. She has written guest columns for several pink-paper magazines. She enjoys going through sites like www.leasequit.com in her free time.