Financial Tips for Tackling Business Debts
Small businesses are facing extremely difficult times financially with the slowing down of the US economy. Financial issues can prove to be extremely challenging as they take up too much time to resolve and they eat up valuable business resources. Financial problems should definitely be tackled proactively for resolution. It is a good idea to take your banker's expert opinion from time to time as he has the necessary training and experience and he devotes a lot of time to take care of your financial health.
Debt and Things to Do
Entrepreneurs dread the word debt. However, in this era of economic upheavals, debt is unfortunately, a hard reality for many business people. You must face such a challenging issue with utmost dedication and determination. Stay focused at all times; concentrate on your debt and equally on saving. You need to chalk out a plan to tackle the debt and get rid of it. It is also, important for you to expand your business. You need to take care of both the issues simultaneously. Here are some tips to sail successfully through financially distressing times: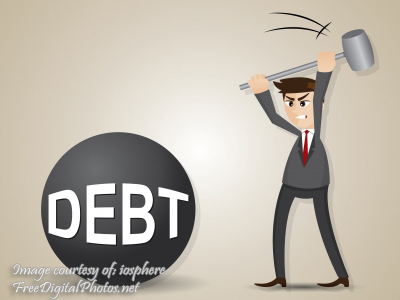 1. Find out and identify what capital purchase is required that will need additional debt. Contemplate if such expenditure will end up generating enough cash for paying for itself. You must defer buying or investing in the new item if it is not able to generate enough cash for paying for itself over a substantial time span.
2. Always chalk out a budget for your business especially, when you are facing tough financial challenges. You definitely need to keep track of expenses and your income. Your budget serves as a financial road map as it assists you in maintaining the right direction and course of the business. You must keep updating your budget frequently. Also, simultaneously try and maintain a budget solely for your personal expenses too.
3. You must evaluate objectively the performance and financial status of your business. Examine if you are achieving the maximum returns from your investments. In case you are not doing so, find out why not. Also, put your non-business assets under strict scrutiny and see if they are able to generate maximum returns. Keep in mind that in times of crisis, it is important to survive. Identify any assets that are not boosting your financial health. You could consider selling them.
4. Pay attention to the structuring of your debts. See how your debts are structured. Look for any imbalance between short-term debt and long-term debt. Consider spreading out all your short-term debts through a longer time span as this may help in boosting monthly cash flows. You must be extremely careful while applying for a loan on the basis of long-term assets. Use long-term equity only if it is extremely critical for the running of your business.
5. Devote some time to the preparation of your Financial Review along with the banker. You must help the banker with all the information that is required. You must provide comprehensive information regarding the cash flows, inventories and even the balance sheets. In case you have certain financial issues, you must think of a way to resolve those issues. It is a good idea to put your thoughts down on a piece of paper so that the banker can review the kind of solution you are thinking of.
6. Dealing with financial issues at once is the best policy. Be proactive whenever any financial issue is able to affect your business adversely. The best way of avoiding serious financial crises is by identifying and resolving them at the earliest possible.
7. Accept Responsibility but stop feeling guilty about debt. Do not get bogged down by the feeling of guilt instead coming to terms with reality really helps. Accept your mistake and take responsibility of all your debts. It is time to act in a productive way and learn from your mistakes so that the same mistakes are never repeated.
8. You must ascertain the total amount outstanding. You must know what debts need to be repaid or how much you actually owe to your creditors. It is of no use to ignore the bills. You need to chalk out a perfect plan for paying off all your pending bills and debts. You must treat yourself as the owner of the business and so you must pay yourself at first. If you happen to come across some extra cash most likely an affiliate commission check, tax return, etc. then make sure to use that for paying off your debt or you may consider re-investing it and directing it to your business.
9. Get in touch with a credit counselor and take his advice. Determine what will be your best option under the circumstances. Choose from debt consolidation, debt settlement or other debt relief options. Debt consolidation is nothing but taking a single loan to pay off all pending debts to your creditors. You now would need to make only one monthly repayment.
Debt settlement is nothing but negotiating with your creditors. In this case, you acknowledge all your debts, but at the same time inform your inability to pay up your entire debts. In this case your creditors are contacted and informed of the amount you can pay. Then you and your creditors arrive at an agreement as to how much you would pay to settle your account.
10. It is a good idea to know your reality. Maintaining a clear perspective always helps. It is effective to get away from hectic lifestyles at times. Keep your business stress away.
Author Bio: Sujain Thomas is presently working as a financial consultant and has worked with a number of firms and charity initiatives for debt relief in the past. She is also into blogging and writes debt settlement reviews.