Mama Sita's Recipe For Success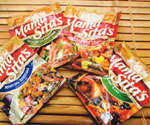 I'm sure every Filipino know the brand name Mama Sita. If I'm not mistaken they are the pioneer of ready-made sauces and mixes of Filipino dishes like kare-kare mix, sinigang mix, kaldereta mix, barbecue marinades, palabok mix and many others. It started when Mrs. Teresita "Mama Sita" Reyes' desire to give her grandchildren living in the United States to eat Filipino dishes because all her grandchildren wants to eat are hamburgers and hotdogs. Maybe she wanted also to cultivate some Filipino culture on her grandchildren because there are many kinds of food for them to choose in the U.S. besides hamburgers and hotdogs. Anyway that desire motivates her and her children which gave them an idea to make ingredients which they can easily bring outside the country so those Filipinos living there can have a chance to eat Pinoy dishes with convenience. They then setup a company named "Mama Sita" and the first product they made is the "Biglang Sinigang". For those who were not familiar with sinigang, its a Filipino dish of boiled pork in sour broth using tamarind juice as the main ingredient for it's unique taste and added with spices and vegetables. There are also variation aside from pork which is beef, prawns, milk fish or bangus and other marine fishes.
The "Biglang Siningang" is made from tamarind and formed into a paste. It's not easy to find tamarind in the states back then so those who wish to make 'sinigang' used lemon to make it sour. Maybe today you will find tamarind coming from other parts of Asia like for example in Thailand. Even in our local supermarkets you can see tamarind from Thailand and is more expensive than the local ones. So with the help of Mama Sita's son-in-law which she called by the name "Henyo"('genius' in english) they created the formula to make the 'Biglang Sinigang' which started the long and tasty success story of Mama Sita.
Like many entrepreneurs who started their business, Mama Sita was not exempted as the major obstacle is the acceptance of local market to ready-to-use mixes for cooking because many thought in my opinion that this is just for the upper class and looks expensive. There is also a notion that all of those mixes are artificial and the ingredients are not natural. Since the ingredients are abundant in the local market, many will opt not to buy it because our country is not like America or other industrialized countries where time is very important for the reason of many job opportunities. Meanwhile Pinoys in the states are very busy and do not have the luxury of time so food preparation should be quick and besides, the pinoy dishes ingredients are not easy to find there and might be a lot more expensive because of importation cost.
So they focused on overseas Pinoy market and they brought their first product in America in 1983. They made the right decision because they thought that Pinoy abroad are ready to accept their products and they filled a need. For example in cooking 'sinigang' the tedious process of squeezing the juice out of the tamarind to sour the broth is made simple by just adding the 'sinigang mix'. But still, they are patient for the local market to accept their products which I think is bearing fruit right now because I can see in many supermarkets that there are many brands of Pinoy dish mixes and I even saw Mc Cormic have a Palabok mix ( for those not familiar with palabok, it's similar to spaghetti but the pasta is not made of flour and the sauce is yellow with slices of hard boiled egg, dry powdered fish and blanched peeled shrimp).
And last but not the least is Ramon Reyes advise, (by the way he is one of the sons of Mama Sita and the Corporate Services Officer of Marigold Commodities Corporation) to business owners and entrepreneurs, in their own experience, their business are guided by this acronym: R.I.C.E. ( Resourcefulness, Integrity, Creativity and Enthusiasm) which they think is their key to success. He believes that even if a businessman have money or capital, he won't succeed without those virtues.
Source: You can read the whole story in Masigasig Magazine