Natural Treasures Success Story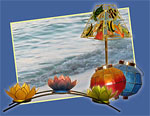 Perhaps persistence is one of the traits of a successful entrepreneur. The lady in the story, Mrs. Teresa Enano Cleak, turned her remarkable persistence into success and provides opportunity for our product to be known worldwide.
While Natural Treasures is now one of the top exporters of capiz products, with perhaps the largest selection of traditional and modern items and designs, Natural Treasures was, in its early years, the proverbial phoenix, rising out of the ashes of a crumbling startup business, on the fragile wings of perseverance and possibility and against, many will say, the worst kinds of odds. Natural Treasures had originated as far back as 1986, then under a different name, when Teresa's British spouse and his business partner had gone into exporting capiz sun catchers. At the time, Teresa, determined to make her own money, had ventured into having a small canteen business and refused to be a part of the export company.
However, when the initial sun catcher business fell into crisis, Teresa was finally brought in on a commission basis to help out with the company. When she started, the old company was millions into debt and was ridden with labor strikes. So in order to keep business going, they ceased operations in the main factory to deal with labor concerns, while at the same time opening up five new small factories and hiring new employees to work on pending purchase orders. With an iron fist, Teresa helped make several improvements in the company,such as requiring down payments on orders so that they could bankroll the business. The company also started expanding its product range, since Sun
catchers eventually waned in popularity. For this, Teresa concentrated on obtaining input from customers she met in bazaars, which eventually led her to the idea of creating functional capiz designs-namely, lampshades, small tea light candle holders, larger candle holders, and even photo frames.
To get things moving further, Teresa decided to join the Manila FAME trade
show in 1994-a move which ultimately paid off for Natural Treasures. A big
Japanese client quickly took interest in the company's products and, while on Teresa's watch, eventually put in an especially large order-an occurrence quite unheard of among first-time trade show exhibitors. The following year, Teresa was brought into the company on a full time basis. And that same year, under the couples joint efforts, Natural Treasures took home the best product collection. In the Manila FAME Katha Awards. This qualified them to participate in a trade exhibit in Japan which ultimately, allowed the company to reach an otherwise fairly impenetrable market and eventually led them to other respectable-sized markets around the world.
At present, Natural Treasures with Teresa and her family at the helm, have proudly achieved sustainable operations for 20 years. Having supplied to increasingly demanding markets such as Italy, Japan, and the United States, the business finds that it never goes out of season. And, having had the impeccable and virtually impossible record of never suffering rejects and do-overs of shipped items, the company's strict quality control system-where monitoring is done on every step rather than a sample quality check of the final product-has so far proven to be the best solution against the usual problems of export businesses. For Teresa, all the successes on her long journey with Natural Treasures are hardly miraculous, rather, products of patience, persistence, and good old fashioned common sense -which, she notes, is what business sense boils down to. But for anyone who might know her long journey, it would seem the most interesting turns of fate that mark her way indeed, if anything her tale of struggle and persistence has proven that there are no impossibilities, nor any limitations to what people can do or what a business can achieve- be it the simple shifts that eventually move mountains or the most glorious rise after the hardest of falls.
Source: Masigasig Magazine
Natural Treasures Website: www.naturaltreasuresinc.net