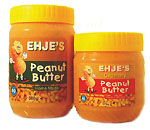 Do you believe in luck? Most people do but many still believe that in order for you to become rich or successful you should be industrious and patient. But still many successful entrepreneurs believe that they also have luck on their side that is why they become successful. Like for instance the woman behind EHJE'S peanut butter, Jennilyn Antonio. Today her company is producing eight tons of peanut butter a month and targeting eighteen tons a month. Supplying 50 branches of large stores and targeting 500 branches nationwide of a famous bakeshop in the Philippines.
So you may ask, how did she become successful? Before this blessing she is now enjoying, like most of us who just making ends meet, they had many financial problems: Paying tuition fees, debts and everyday expenses. Jennilyn was a factory worker and her husband Vicente was a driver. She has a side line of selling viand, kakanin and many kinds of foodstuffs to her co workers and friends.
One day when she was in a market buying ingredients for her cooking, she saw ground peanut paste being sold (used for making kare-kare). She has no idea why she focused her attention to those peanuts and she immediately taught of making peanut butter. She doesn't know how to make peanut butter but she insists of making one herself and experimented. With a stroke of luck she got the right formula with only a single trial. Until now, it is the same recipe she using for manufacturing tons of peanut butter.
I think in the story, it's not just luck, patience and being industrious are the reasons to become successful. This is the secret "You don't have to make it right; you just have to get it going." If she procrastinates or think negatively or say to herself "I don't know it", someone else instead of her will enjoy that blessing.