Database Tips To Grow Your Business
Your database is just like having a garden which you need to prune, weed and give careful attention to get the most out of it. Your database holds the client list and it requires the same amount of attention to get results. Many business owners will admit that they do have a business database but it is not really well organized and they rarely spend time working on it. Your client list is a gold mine for your business and you can tap into its potential through the following ways:
Your customer is your most important asset
As a business owner, you need to understand the weight of the statement that your customer is your most important asset. Without them, the process of buying and selling would be impossible. After the initial sale, your customer still needs to feel cared for and serviced to maintain a great relationship. When you truly value your customer, you can enjoy easier prospecting, repeat business and referrals as well. Your loyal customer is your biggest marketer and you need to make more customers loyal.
This is why you need a database system that can deploy relevant information to your customers to keep your brand constantly in their minds. Organizing your contacts and keeping in touch through customized messages depending on the kind of customer is extremely important.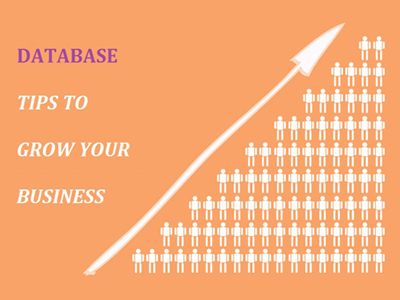 Sell to existing customers
Studies have shown that businesses often have better chances selling to existing customers than appealing to a new prospect. You need to take time to work on your database by reviewing and updating customer information so that you can nurture these relationships. Every customer who comes in contact with your business should be encouraged to join the contact list and maintained as a potential point of sale.
Quality client relationship management
Did you know that you could save five times the marketing dollars by retaining current customers? You need a great client relationship management system to maintain contact with your customers. You should integrate a client relationship management system into your database for seamless integration of the two systems. The CRM is one of the most important parts of the database.
Database support services
Working on producing a great product, marketing and acquiring customers is already an uphill challenge for the business. Keeping up with the database can be difficult and time consuming for most businesses. Building a database affordably and effortlessly is a need for every business to be successful. Using DBA support services can help you in the process of prospecting and maintaining a marketing edge. DBA support can help you manage your databases along with ongoing communication and marketing messaging that will help you stay connected with your prospects. The DBA support team will help you identify what is missing from your current system.
Entice past customers
You can reignite the connection you had with old customers through phone calls. Phone calls may seem old fashioned but they do add a personalized touch to your customer relationships. Once you have reignited communication through a phone call, it opens the doors to continuous engagement through other forms of communication that maintain a warm connection. After phone calls, you can offer gift certificates or special reports to these customers through email or text depending on the contact information that you have. Offering seasonal competitions or investing in your contacts for social events can help maintain a great relationship.
Five-a-day contact program
A healthy rotation through the contacts in your database can increase your number of touches at the end of the month. For small businesses, small steps often have a big impact. Taking small steps allows you to make more personalized contact with the customers that you chose to communicate with.
Host an event
You can throw a fun party or even host a charitable event for your past clients and strategic partners. You can turn this into an annual event that your clients look forward to and you can share all the event details through the contact list in your database. Customers feel extremely appreciated when they receive an invite regardless of the product or service that they bought and this could encourage them to buy more.
Hosting such events doubles up as making you more visible to the community. It changes the way customers look at your brand because it makes you more acceptable and human. These qualities help to build loyal and trustworthy relationships with clients.
The bottom line
When you consistently update your most valuable asset, your customers, you do not ever have to start from ground level again. You can leverage the power of your sphere of influence to drum up more business among these loyal customers. Your database can help you reduce business operating costs especially in the marketing department due to better targeting of your consumer reach out strategies.
Author Bio: David Wicks is IT professional and writer. He always looks to share is knowledge by expressing through articles. He is Internet surfing lover and you can check more on remotedba.com.