How To Make Your Blog or Website WAP Compliant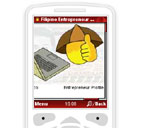 Thinking of making your website or blog WAP compliant? It looks like it is easier said than done. Imagine, how will you fit the PC monitor screen to a cell phone screen? Those tiny LCD cellphone screen can't possibly fit in it, that is, if you will put everything in it. If you are using your cell phone to browse non WAP blogs and websites, you can still view the whole page but you have to zoom-in and zoom-out in order for you to read the contents. It's not possible to load the whole page in a cell phone's browser because the letters are too tiny and will not show properly. A WAP compliant or mobile website have slim lined(eliminated the non necessary contents) the webpage and just put the important contents in a small mobile website.
If you own a website (a non blog site) with thousands of pages, for example: static html pages, it will take a long time for you to convert all those pages. But if you own a hosted blog, then lucky for you because it will only take you a few minutes just installing a plug-in. This will only work in a hosted WordPress blog. I don't know if the free wordpress blog can use plugins because I haven't tried it. If you like to make your blog WAP compliant, you can download the plugin here. The plugin is created by Alex King and if you are willing to donate, it's better so we can help our fellow entrepreneur create more wonderful plugins.
It's easy to install it:
1. Drop the wp-mobile.php file in your wp-content/plugins directory
1. Drop the wp-mobile directory in your wp-content/themes directory
2. Click the 'Activate' link for WordPress Mobile Edition on your Plugins page (in the WordPress admin interface)
After installing the plugin, test it to see if your blog have a WAP format already by accessing your blogs' URL. There is no adjustment necessary because the plugin will automatically detect the mobiles' browser and will show your mobile blog. In my first test of my other blog, it worked great but looks generic. What I did is customize my mobile blog so it will identify that it is my blog with my logo in it. If you're already web savvy, I think there will be no problem. But if you think it's hard and too busy to make such customization, then just contact me after you made the payment.
The package will include for Mobile Blog installation:
Installation of plugin to your wordpress blog.
Customize logo creation for your mobile blog.
Technical support
If you want to check how it looks like, access this URL in your mobile browser: http://www.junkfoodie.com
Already convinced? then please pay here: (US$20 Paypal or Credit Card)
Again, please contact me to this email address: [email protected] after you made the payment and forward to me the confirmation email from Paypal so I will know that you already made the payment. Also, before payin, make sure your blog don't have ads per post because it doesn't show well in the mobile. Maybe I'll just customize the mobile page and fit the ads in it and select a smaller ads format if that were possible.
And last but not the least is to website owners (not blogs). Making your website compatible to a mobile device is a lot harder because you have to make another website and copy all your contents to that new WAP or mobile website. Not only is it tedious, it will also affect your search engine ranking because doing so might penalize you with duplicate content. But I think somewhere or somehow there will be a solution. The only solution I have in mind now is to create a robot.txt file or put in the meta tag a no index and no follow tag. Anyway here is the site where you can create mobile compatible websites: Mobi Site Galore. You have to register first before you can use their complete utilities for creating mobile websites.
Update: If you are interested you can read my post about iphone clone.