How to UseYour CellPhone as a Modem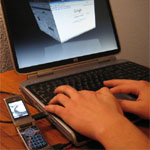 I know that this is not new and have been around a few years back. If you can use your cellphone to surf the internet, you can also use it to surf using your computer by plugging the USB data cable of your cellphone to your PC or use bluetooth if your cellphone is capable but some PC don't a bluetooth device and you have to buy it and attach/configure it to your PC. Whichever you prefer, what is important is for your computer to have access on your cellphone. Even though I know that this can be done years back I didn't bother to do it myself because I have no need for it, that's because I'm using a landline from dial-up (before) to dsl (now) and I always think that those people who are always on-the-go are the only ones who really need it. But there are times that you need a back up if ever you loose a phone line connection, going out of town or if you are relocating. Relocating your land line will take some time so at least you need this kind of a internet connection using cellphone GPRS or 3G capability. It works either on a prepaid sim or a post paid sim.
You can also purchase a USB dongle from Smart or Globe telecom. The USB dongle from Smart is Smartbro ( prepaid or postpaid ) and from Globe is Visibility ( prepaid or postpaid ). But it requires you to buy the dongle for Php4,500. If you have a cellphone with a GPRS/3G, then why bother to buy the dongle? All you need to do is to configure and activate your handset then there you go! So how to activate it? it depends on the network provider. There are different configuration depending on the network provider. You can configure it manually or you can just text them or call their customer support to send you the configuration setting then save it on your cellphone. In my experience, the second one is better because it eliminates the frustrations and headaches.
When I was in the process of configuring my cellphone, even though my manual configuration is correct, I can't make it work. I even went to the Smart customer support in SM and told me that my configuration is correct but my cellphone is incompatible. Then unexpectedly when I went back home my cellphone received a configuration setting then I saved it then it worked! what a relief. The same thing with Globe, not until I called their customer support and ask them to send me the configuration setting for my mobile phone to work properly. Maybe it depends on the cellphone model and brand and it might work on you if you configure it manually. If you want to know more about configuration, click here.
Basically, all you have to do to configure your phone is:
For Smart:
Step 1: If you are using a 3G handset, go to Tools > Settings > Network Mode > select Dual Mode. If your phone is only GPRS then skip this.
Step 2: Activate your handset by texting Set 3G and send to 211(for 3G hanset) or SET GPRS to 211 (for GPRS only) .
Step 3: Save Settings sent by 3401. Key in 1234 if prompted.
Example: If you have a Samsung SGH-X640, that's "SET GPRS SAMX640"
To download Smart MMS phone settings:
Key in SET MMS and send to 211.
To download SMART 3G phone settings:
Key in SET 3G<phone model> and send to 211.
If you don't know the abbrevation of your phone model, key in SET LIST and send to 211. If you can't receive their configuration setting for days, then call the customer support and ask them to send it to you.
For Globe:
You just have to call the customer service 211 and let them activate it and ask them to send the GPRS or 3G setting on your phone. This will save you time and hassles on setting up your phone. Even if you manually configure it, in my experience, your phone will still not function properly. But just in case you want to know more about manual configuration, just visit the site here.
Configuring your PC
Now we will go to the tricky part, configuring your computer to hook it in your mobile phone. At first I thought a GPRS or 3G modem is a separate device you have to purchase and install in your computer. But when I made some research, your mobile phone is actually the modem itself. You just need to install a GPRS or 3G modem driver to your computer depending on the type and model of your cellphone and use your USB data cable. The USB data cable usually comes along when you purchase a mobile phone together with a CD containing a PC suite for you to access your phone in uploading or downloading pictures, ringtone or messages. But if ever you don't have one, you can purchase it in some cellphone store or buy it in ebay if you are having a hard time finding the data cable for your mobile phone.
If you have already installed a PC suite in your computer, I assume that the modem driver is already there and all you have to do is to configure your computer to activate the modem driver. But in case you don't have a PC suite software or modem driver, I found a site that I research for you. Just go to this site NoDevice.Com. Search for the modem driver by typing your cellphone model and download. If you can't find the modem driver, just look for a PC suite and install it and probably the modem driver is already included with the installation package.
Now, before you start configuring your modem, you should first make sure that the com (communication) port is available (e.g. com1, com2, com3). First plug the USB data cable in the PC USB port.
Go to Start>Control Panel>Add Hardware
Click "Next" button and select "Yes. I have already connected the hardware" then click "Next"
Select "Add a new hardware device" and click "Next" then the wizard will search for the device (which is the data cable) and will assign a com port.
How to Configure Modem
So after you installed the driver or the PC suite(for Windows XP users):
Go to Start>Control Panel>Phone and Modem Option>Modem.
Click the "Add" button and click the tick box that says "Don't detect my modem:I will select it from the list" and click the "Next" button.
Then you will see a list of modem on the left side on the "Manufacturer" column and select the kind of modem you prefer. for example, if your mobile phone is Samsung, select it then the "Next" button.
After that, select the port for your modem. It is the port assigned to the USB data cable which is either com1,com2 or com4.
Then click the "next" button again and it will automatically create the modem for you. Afterward, click "finish" and thats it!
Create a Connection
It will be better if you have a software like a Easy GPRS which is only for Samsung brand handset but maybe there are also other kinds of software available for other handset like Nokia or Motorolla. But just in case you don't have one and wanted it to be simple, then you can create a connection similar to a dial-up connection. To do this:
Go to Start>Control Panel>Network Connections>Create a New Connection. (again this is for windows xp users)
A new connection wizard will show. Click "Next" button and select "Connect to the Internet" radio button and click "Next" again.
Then select "Set-up My Connection Manually" again click "Next" and select "Connect Using a Dial-Up Modem".
Click the "Next" button  and select a device by clicking the check box. If you see some device that have a check on it, unselect it and choose the GPRS or 3G modem appropriate for your handset.
Click "Next" again the type a name or invent any name for your short cut dial up icon. Click "Next" again and the window that you will see will prompt you for a dial up number. This is tricky if you don't have an idea what to put in it. At first I thought I'll put my cell number in it. But it is simple as *99**1*1#
Again click the never ending "Next" button and a window will prompt you for a username and password. Leave it blank and click "Next".
Then click "Finish" and your done!
That wasn't too hard isn't it? 🙂