Mobility Solution For Business Entrepreneurs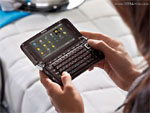 Have you heard of the words 'Mobile Entrepreneur'? You see then every where, in coffee shops who access the internet with their laptop while sipping their favorite brew. Those people are also those who are stuck in a traffic jam and send urgent email messages through their cell phones. They have all the modern communication tools at their disposal and they have access to information anytime or anywhere in the world. They can achieve high level of productivity because of the technology.
Since mobile entrepreneurs are on the go, the mobility of those high end gadget have made an attraction to them. Smart phones are getting better and better with regards to network access and storage capacity. They also have many built in application that makes them useful to the mobile worker. One good example is the Nokia E90. It's no just a cell phone, it can be a mini laptop as you can see in the picture below.

The following features are 3G: HSDPA/ 3.6 Mbps, Camera: 3.15 MP, 2048×1536 pixels, autofocus, video(VGA 30fps), flash; secondary QCIF videocall camera,Built-in GPS receiver (with preinstalled maps), Push to talk,Video calling,Java MIDP 2.0,MP3/M4A/AAC/eAAC+/WMA player, FM radio, TV out, Voice, command/dial, PIM including calendar, to-do list and printing , Document viewer, Photo/video editor.
Not only will these devices provide entrepreneurs with timely and precise access to information but also with much higher quality of of accessed information with the introduction of 3G networks and rich media by local telecom.
Although I personally don't use such devices for now, it seems that those mobile devices can actually help those entrepreneurs to cope with life on the road. How? take for example, a kind of niche you have like in music or those that needs inspiration to do the task. You cannot confine yourself in an office to force yourself to do something when your not inspired. But when you have a laptop and a mobile phone, you can do your work wherever you are on the spot. You can act on inspiration precisely when inspiration comes. For example, when you are composing a piece with your music, or when you are blogging and an idea comes in a place when you are eating in a cafeteria, you can write on the spot and won't miss the detail. Unlike when you have to remember everything and have to wait until you reach you desktop PC then something else entered your mind and the moment you sat down in front of your computer, you forgot everything. This happens to me frequently even at home when I was at the dinner table and went upstairs to my PC. How much more when you are traveling?
Another thing is when you are meeting with clients and you have to bring your office with you, you just need a laptop and a mobile phone to keep yourself productive and only need a WiFi access on the nearest hotspot to send and receive data. On the contrary, although this technology is very helpful, there is also downside. First is the cost of acquiring them. Not only does it burn your pocket on your first purchase, but how you keep up with technology by upgrading when a new model comes in. And there is also a security issue since WiFi hotspots are public, it is prone to hacking similar to renting a PC in an internet cafe. Another thing, since it's portable, is easily stolen even if you protect it with locks.
But the bottom line is, even both have its advantages and disadvantages, the mobile worker will have multiple options and their productivity and performance will no longer be confined in one area or fixed working environment which are common in the past.