I wish I bought Smart Bro prepaid last month (for emergency purposes) since Smart Philippines lowered the price to Php 995 . When Typhoon Ondoy hit our country my PLDT landline lost it's dial tone but only lasted 2 days so I never bothered buying Smart Bro. But just last month when Tyhoon Santi hit Luzon, I wasn't lucky enough because up to now our phone line is still not working. So having a back-up broadband connection is essential. Now the question is why choose Smart Bro and not Globe Tattoo or Sun Cellular?  I was hesitant at first if I will choose other brand of prepaid wireless broadband. Since I already tried Smart Bro prepaid from a friend when I fixed their computer and was very satisfied with the speed (and they live near our residence. If they live on other place, I will not be sure if there is a 3G signal in our area), I was decided to buy it.
I also checked the speed of Smart Bro on speedtest.net and below is the result: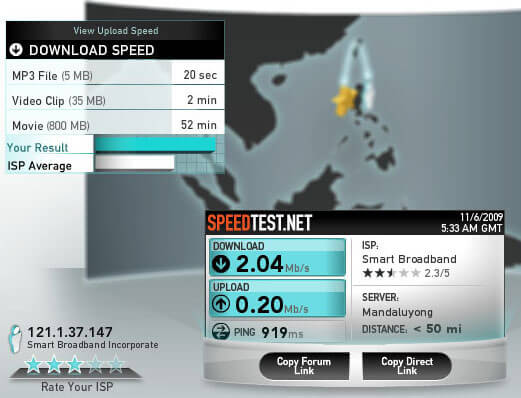 At 2Mb per second I assume this might be the fastest prepaid broadband in the Philippines (or maybe I spoke too soon….). I guess maybe, many are already using Smart Bro specially those who lost their DSL connection as per my other website statistics.
And why did  I choose prepaid? it's obvious because I already have a myDSL broadband subscription at 990 per month even though most of the time the connection is crawling. I'm also getting tired calling the technical support to fix my DSL connection.
Comparing it to smart bro prepaid, the only significant disadvantage is the cost (there are other minor things like can't log-in to BPI online banking). Imagine surfing 20 pesos per hour will cost you 100 pesos a day if you will surf for 5 hours! in a month it will accumulate to 3,000 pesos! it would really burn a hole in your pocket.Yes I know there is a SMART Bro Share It (Wi-Fi router) at php 999 per month but I still needed a landline so I'm not sure if it's wise to avail of this product (there is a 24 month lock-in period and if the service sucks then you will not have a choice but to pay the 2 year lock-in period).
I was hoping Smart Bro will release a kind of unlimited surfing for let's say 50 pesos for 24 hours? similar to unlimited call on prepaid cellphones and that will make Smart Bro even more competitive.