Square Mobile Phone Payment System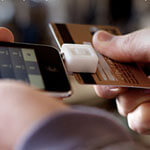 There is new gadget that can accept credit card payment just using a mobile phone particularly an iPhone. According to some report it can also be used on a laptop. It is a kind of dongle that you can plug on an iPhone audio jack, a tiny square shaped plastic that can read credit card info and can transact just like a credit card terminal. The biggest advantage of this kind of technology is almost every one who has an iPhone can avail of this new technology  (not exactly every iPhone user because as of this moment it is only available in the U.S.). To accept a payment by credit card, all you have to do is to swipe it in the square dongle and the information will be transferred to the iPhone. Then in real time you can charge the card and presto you have the payment, possibly in your bank account. The square plastic device works simple unlike the traditional credit card terminal where a merchant needs to have a merchant account, monthly fee and transaction fee whereas the square is free. Before I forget to mention, this device was a brain child of Jack Dorsey, the founder of twitter. Maybe my post will look redundant for introducing Jack Dorsey over and over again because most of the articles I've read always starts with his name.
Anyway I thought this was the first kind of mobile payment system ever invented but there is a predecessor which has been around in the past and still active today. It's the Iswipe mobile payment system by appninjas.com. The only difference is that iswipe has a monthly fee and transaction fee. So how about you? what do you think? was Square the best mobile payment system?