WAP Mobile Phone Compliant Websites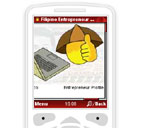 Do you remember the song of Neil Sedaka "My World is Getting Smaller Everyday"?. Maybe the new generation haven't heard of that song. I can still remember that song in my childhood years. Technology really makes our world smaller everyday. Since the revolution of the internet there are many smart gadgets in the market being invented year after year. Computers are getting smaller and smaller, smarter and faster. Today, you can see powerful laptops in the fraction of it's size from it's predecessors. Remember that 386 computers? today when you see someone still using it, I guess you will laugh and say that it only fits in a museum. Websites too are changing and becoming more and more dynamic. But one area that sparks my interest are the mobile phones that can surf the internet. Before I'm skeptic to the marketing potential of the WAP market since the small screen of those cell phones are inconvenient when surfing. Also, surfing using your computer is cheaper and you can do things better than just pushing your cellphone keypad which will take longer just to type a single word.
But come to think of it. Technology will get better and better and having a website compliant to WAP (Wireless Application Protocol) will give website owners an edge compared to those who does not plan to take advantage of this new technology. Anyway, GPRS/MMS is not really the latest technology because it has been around for years. But before, not many have WAP access and your phone should be postpaid to use it. Now, telcos are providing this service to all packages, be it a prepaid or a postpaid. You can even access some WAP websites for free like the Yahoo! search and Yahoo! mail provided by Globe telecom. And maybe sooner or later many telcos might bring down the cost of using GPRS since they compete with each other and might provide more features and services.
No wonder Google became interested on placing ads in mobile. Maybe they foresee the potential market in the future. Today, it's not very convenient to surf using our cellphones but maybe in the future, greater techology will arrive as what we see now in iPhones and prices will go down and many can afford it.
By the way, I found a cool popular site that simulates a WAP cell phone. If you are planning to make a mobile compliant websites, this might be useful because you don't need to test is in your cellphone and will not cost you a cent. It's not cheap and slower to use a mobile surfing the internet. It will not only save you time, it will save you money too. If you are interested, just follow the link here: Opera Mini Simulator
Opera software website is offering a free download of Opera Mini browser to replace the existing browser of your cellphone. It will give you a faster browsing experience because the Opera browser I'm testing on my PC is really fast. But as for me, I still stick to Mozilla Firefox because of the many features I can't work without (
). If you are interested, you can follow the page here to download the browser or just access this URL: http://operamini.com using your mobile and click the download link and follow the instructions provided in your cellphone.
Update: If you are interested you can read my post about iphone clone.