Why Mang Inasal Sold to Jollibee
Since Jollibee bought 70% of Mang Inasal from the owner Edgar "Injap" Sia II, I guess no one knows the real reason why Mr. Sia decided to sold part of Mang Inasal to Mr. Caktiong, the owner of Jollibee. But the fact that Mr. Sia didn't sold the entire company and kept 30% of it, we can conclude that the owner still wants to retain the company. My conclusion is, in business, there are many competitors and the big boys always wins. Since Jollibee and Mang Inasal has almost the same "Star" product, and that is cooked chicken, although the method of cooking is not close to each other, they are direct competitors. One is fried while the other one is grilled but they are both serving the fast food industry.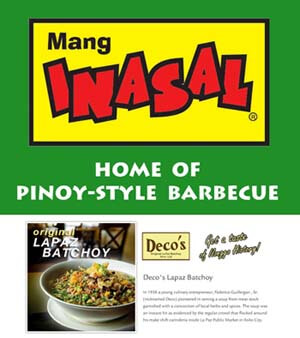 So in order for Mang Inasal to boost it's potential, instead of competing directly with the giant, he should join them. There is a saying, if you can't beat them, join them. And the same thing with Jollibee, since Mang Inasal is a threat, even though it is just a fledgling little chick, Jollibee became interested in buying the company. Most businesses do that to demolish the competition whether they will buy their competitor to integrate to their existing business or just to make them disappear into oblivion.
 Injap's Pain in Letting Go
Even though the monetary compensation is really huge, I mean HUGE! about 3 billion pesos for a 70% share, if you treat your business like your own child, it is really painful to let go. Even a pet dog will break my heart if I'll give it away even for a price. I think to Mr. Injap Sia, his business is priceless since according to him his entrepreneurial journey has been a roller coaster ride and I think this is where he became very successful. With the phenomenal growth of  his fast food chain Mang Inasal with over 300 franchised stores nation wide and 24 company owned, I think it is really hard to sell it while it is really hot in the market. In a letter to his "Mang Inasal Family," Edgar Injap Sia II expressed "deep sadness" like a "father parting with his child" as he hands over the care of the restaurant to the giant corporation.
Is Injap Planning for Another Mang Insal?
Many fans of Injap haven't seen the last of his genius or should I say luck? But as he said himself that we should cruise the days and to learn, learn and learn and should not rush into the  next "big things". Because big opportunities will come at the the right time and when that time comes, we are prepared to apply what we have learned.
Aside from his 30% share of Mang Inasal, he now has a stake in Deco's Lapaz Batchoy. The main dish consist of noodles, meat stock, pork meat and intestines, liver and herbs and spices.  So who made and where did the dish "batchoy" originates? it was  first started by a young butcher named Deco Guillergan Sr., in 1938 in a carinderia at the La Paz public market in Iloilo City. So you now know why Injap named his new baby Deco's Lapaz Batchoy. His new business has an interesting concept, he serves the food heritage particularly the Ilonggo's history.