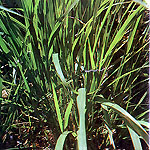 Is there such thing as a Golden Grass? If there is such, then I would really love to plant these. On the contrary, this is just figuratively speaking. What I mean to say is the gold or money that you can get with these grass.
Lemograss (Cymbopogon flexuosus) can be found thoughout the Philippines. It's a robust and fast growing tropical plant which are native to India and Sri Lanka. It is mainly used for food seasoning to enhance the flavor of meat and poultry. But didn't you know that it cost Php850 of lemongrass oil per liter? Such is the very high demand for essential oils in the market. The domestic demand for essential oils is 25 tons annually and 7,500 tons in the international market.
Here in the Philippines, we still can't cope with the demand of lemongrass essential oils because of lack of supply of raw materials. Such is the case of the company who manufactures lemongrass essential oils, the Gold in Grass Corp. (GIGC).
They have made every effort to sustain their demand for lemongrass by buying farmlands to produce the crops. But as for many business they have encountered obstacles. Although this is a hardy plant, it needs a sandy loam soil to propagate. Instead, they bought a farmland not suitable for growing it. But it was resolved by buying another farmland. And the machine for extracting the oils, since they can't find one available to suit their need, they fabricated their own.
Despite of our many agricultural areas, many farmers dislike the propagation or planting of lemon grass thinking that they will not earn money from it. I don't blame them because even our staple food like rice or copra(for making coconut oil) they don't earn as much also.
But if they will only be educated and learn the high demand for lemongrass and the benefits that they will get from it; I think they will think twice. Since the plant is hardy and almost no need for TLC (tender loving care) like other crops, this will make an alternate income for them aside from other main crops they are planting.