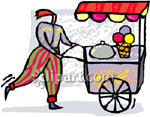 Food cart business offers the most portable type of food service. Since all the things needed for your business are in the cart. For example, the cooking utensils and equipment, cashier and the items you sell. There are many types of food cart businesses you can think of like pearl shakes, fruit shakes, nachos, siomai, baked good, fish ball, squid ball or rice in a box. The popularity of this type of business makes 1 billion pesos of sales every year.
But before you plan to start this type of business, you should first consider the location and the type of product you are selling for that location. It is important that the location should have high foot traffic. This is very obvious because how will sell you product if there is no one around? But even though there are lots of people passing doesn't mean that you will already have a large amount of sale. For example, if you put your cart near the MRT or any public transport area people are always in a hurry to get to their destination and does not notice things around them very much.
Secondly, the type of food product you are selling. If you are selling outdoors specially near a public transport, foods that are exposed often make people turned off because they think that the foods are contaminated with dust or smoke. So, packaged food is ideal when selling outdoors. If you are selling indoors like inside malls or schools, people want to see their food prepared. So if are planning to start one, there are many food cart francises available that you can start with a capital ranging from Php 30,000 up to php 300,00.