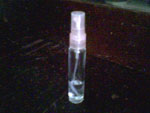 Most people like perfume because they love to smell good specially ladies and women. That is why a perfume business can be lucrative if you know how to properly market them. There is also a perfume refilling business you can see in malls with different kinds of well know brands like Drakar, Lacoste, Eternity and so fort that you can purchase in 5 ml bottles. Anyway they are still expensive compared to a home made perfume which you can experiment if you are well experienced on making perfume even though you are not a chemist. So without much ado here are the things you will need to start one:
For the laboratory equipment, you will need:
A weighing scale or a kitchen scale ( up to 10 kg depending on how much you will make)
Plastic cups
A stirring rod
A small beaker
A 1,000 ml beaker
A volumetric flask
Raw materials needed:
70 grams deodorized alcohol (TDOH)
15 grams fragrance
5 grams muscol (MCL)
5 grams moisturiser (propylene glycol or PPG)
5 grams distilled water
For packaging you will need spray bottles which you can purchase in 5ml net content bottles or roll-on glass bottles in 10 ml net content in Divisoria Market, Manila.
Procedure:
Prepare all the raw materials needed in plastic cups except the alcohol because it evaporates easily. You can prepare it just before starting the mixing. Weigh each needed liquid materials individually in cups but first weigh the cups and adjust the scale to zero so the weigh of the cups will not be included with the materials. (see the measurement above for each materials)
Then place the small beaker on the weighing scale and adjust the scale to zero. This is for the alcohol I mentioned before. Pour the alcohol until it weighs 70 grams. Then pour the MCL and make sure the plastic cup is empty of the MCL by pouring alcohol from the beaker, scraping it with the stirring rod and transferring it back to the beaker. Mix thoroughly until well dispersed in the alcohol. Take note that water and MCL should not be mixed first because it will harden it.
Then add the PPG to the mixture and stir again until well blended. Then add the rest of the materials one by one stirring each time you add the materials and make sure it is well dispersed.
Finally add the distilled water in the mixture then mix thoroughly until it becomes homogeneous. You can then transfer them in containers.
You can buy the materials from chemical laboratories or purchase a kit from Ultima Entrepinoy Forum Center.