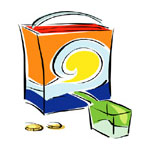 …I think the only way we can save this planet is by going back to the basics like in the seventies or earlier perhaps. Where people use brown paper bags instead of plastic bags when they purchase items from the supermarkets or groceries. Also, detergents or other cleanings stuffs are mostly made up of organic ingredients instead of harsh chemicals that destroys the environment. I'm not sure is there is a strong demand nowadays of biodegradable detergents as per the article I read in a magazine but I think the reason perhaps is the awareness of people on the global warming and protecting the environment.
And with respect to the cleaning power of the biodegradable detergent soap versus the commercial detergent soap, it is also said that it is comparable and with other benefits like being mild to the skin and clothes. But if you ask me, I'll choose the biodegradable detergent so we can protect the environment because this planet is not like a piece of clothing that you can throw away when old and ragged. Mother earth is only one and cannot be replaced.
So how can we make the biodegradable soap? below is the procedure I got from entrepreneur magazine which I think will be helpful to you if want to start a business or let say just wanted to make your own home made detergent soap.
Ingredients:
1 Kilo Sodium Sulfate
500 grams Magic Ultra (coconut-based)
200 grams coconut powder
6 ml bilimbi fruit (kamias) extract
10 grams blue speckles
120ml fragrance (kalamansi scent)
5 grams sodiumtripolyphosphate (STPP)
Most of the mentioned ingredients are imported from China, Malaysia and India but you can also buy them locally in soap supplies in Divisoria. You can also produce kamias extract at home by fermenting 1 kilo of kamias fruit in a jar with 2 tablespoons of salt. After 24 hours get the extrac and strain it then transfer to a clean container.
Procedure:
The first step in making the soap is by measuring up all the ingredients as per the above list and put each in individual container for convenience so all you have to do is pour each one and mix.
Prepare a mixing bowl large enough to accomadate all the ingredients. Mix first the sodium sulfate, magic ultra which serves as a foaming agent to the detergent and coconut powder until it becomes powdery.
Then add to the mix the STPP along with the kamias extract and kalamansi fragrance. Mix again, then add the blue speckles which serves as the bleaching agent. Once you thoroughly mixed all the ingredients, it is done and you can pack them and label them if you want.
Where to get the supplies:
ESF Cake and Bread House
2/F Emer Bldg., 13 Rizal Avenue Extension, Kalookan City
Landline: (02) 948-6112
Mobile: 0902-6566943