Every success on any kind of endeavor whether it is related to business or not requires concentration. Did you know that with concentration a dwarf can do the work of a giant and without concentration, a giant can only do the work of a dwarf? Likewise, when you go to the beach or just stroll around in a hot sunny day, yes you will get sun burn but it will not burn you up like being roasted in grill. When you use a magnifying glass, and focus the sun's ray on a piece of paper and let it concentrate on a spot until it becomes a tiny bright circle, it will burn that piece of paper and create a hole.
The same thing if we practice concentration by focusing all our attention and energy to our ambitions and goals, that is the only time we will have success. It can be a very long  journey and many hardships but at least we will have an assurance of getting it.
Have you read the book titled "The Power of Concentration' by Theron Q. Dumont? This book was written in 1918 but it seems that you are reading a new book because of its powerful motivational passages. This is a very helpful guide specially for entrepreneurs because of the hardships an entrepreneur has to under take and going to the path of "The road less traveled". An the entrepreneur's curse where there are lots of ideas in our minds that we wish to make and we forgot to focus our attention on the more important things. So here is the ebook I want to share.  This is already scattered all over the internet for free. But I made my own version which I converted to PDF and you have to download an Acrobat Reader to open it. To get the ebook, go download it here: ( Instructions: Click you left mouse button and select "Save Link As" on Firefox and "Save Target As" on Internet Explorer)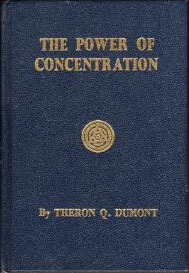 Click Here To Download!