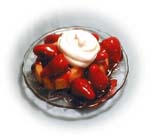 I think one of the most important attribute of an entrepreneur is his or her creativity. Specially now that the market is very competitive and the word "customer loyalty" is becoming more and more the thing of the past because there are thousands of choices you can now have whether you want to buy something or pay for services. This dilemma is common to internet businesses where if there are better choices from other competitors compared to your existing one like for example cheaper hosting services, more freebies on purchasing an item, a customer is quick to change their minds on which store to buy or services to pay.
So being creative will make us stand from the rest and make us more competitive. Like for example today when I was watching a show called Kabuhayang Swak na Swak ( it's a TV show that promotes entrepreneurship) they featured a segment about making candles shaped like real desserts or cakes.
Although candle making is not new and there are hundreds of ideas created for candle making ( for example fruits, vegetables or animals ) the creative entrepreneur making those dessert pies or cakes candles made it very realistic and you can't distinguish it from the real thing. I think this idea came from the U.S. although the one shown on the program is the first who market those products in the Philippines.
I also saw the website ( CandleKitchen.Com) where you can purchase the materials and there are some instructions and projects on how to make some of them like strawberry short cake, pecan pie, banana split, cherry pie which I think will give you an idea. It will be quite expensive if you will buy those materials abroad but with a little creativity you can imitate them using locally available materials.
Just remember to put a label "Keep out of the reach of children" or "Foodies! watch your diet!" or "Caution: Made from wax" or just be creative enough to think of those warning message because it looks so delicious they might be eaten. 🙂