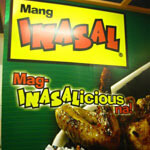 This phenomenon on the chicken barbecue business of Mang Inasal is somewhat mind boggling. Imagine a simple chicken barbecue business with all it's stores nationwide could earn billions of pesos each year. Why not Bacolod Chicken Inasal? which I think has pioneered the concept of making a restaurant out of chicken inasal. It was ten years ago that I first tasted chicken inasal in a restaurant called Bacolod Chicken Inasal which I think, their chicken barbecue is tastier and really authentic with matching banana leaves on the native handcrafted plates. There are also other dishes like the fried crablets and lumpiang bangus which I don't usually find in a Filipino fast food restaurants. But just last year me,  my wife and my daughter ate in one of the branches of  Bacolod Chicken Inasal but was a little disappointed because I expect the food we ordered will be as good as in the branch in EDSA Central (ten years ago). Maybe it depends of the branch or franchisee.
So why Mang Inasal is now the fastest growing fast food restaurant here in the country? Why not Bacolod Chicken Inasal which has really authentic chicken barbecue? So it's true that as an entrepreneur, we don't have to reinvent the wheel. We just have to be creative. I admit that Mang Inasal has captured my taste. Yes their chicken barbecue are delicious but it taste more like an ordinary chicken barbecue with a sweet spicy taste which I think you can do yourself by marinating your dressed and chopped chicken in Mama Sita's barbecue marinade. So in my opinion it's not really how authentic your cuisine should be, but it's how people will accept the taste. So below are some of my observation why Mang Inasal have captured the chicken barbecue market.
1. The Taste and Competitive Price – I think this should go hand in hand like Siamese twins. To win in the food business, it's not only the taste why people flock to a food business but also how well it fits their budget . There are some cheap fast food that offers very low price meals but they taste like crap. People want to enjoy their meals and also save their money. If you separate the two (taste and price) you will either make tasty meals and thinks of jacking up the price or make cost cutting and serve food that people won't enjoy.  Personally me and my family like Mang Inasal so whenever there is one in a mall and it's lunch time, where else will we eat?
2. The Unlimited Rice Concept – this is I think one of the attraction of Mang Inasal. Many businesses has this strategy like in website hosting. There is what they call "unlimited space" on hosting a website. But that is not true because usually a big website has only few gigabytes of files and will not consume an unlimited space. Also the concept of "eat all you can" and you pay a certain fixed amount. We only have one stomach and not everyone can be a glutton so the concept of "unlimited" can be a very attractive promotion. When I eat in Mang Inasal I can only consume 2 cups of rice and I feel very stuffed already.
3. That Big Screen Monitor with Advertisement – when I'm watching their own commercial in their big screen monitor, I feel at home ( he he he I don't have that kind of monitor in our house, it cost more than a hundred thousand pesos). I mean the commercial or infomercial they have creates more appetite and entertainment. Who knows what is that condiment inside that bottle with a reddish yellow oil in it? Ah I know! it's chicken oil that you should pour on top of your rice to make it yellowish and taste better. Thanks for that infomercial, I didn't looked and feel naive. But be careful, it's chicken fat and have lots of cholesterol and not good for your health. But who cares, it's delicious and I will worry about it later he he he.
How about you? what did you observe why Mang Inasal became so successful?