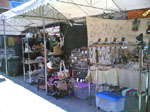 Tiangge, flea market or Bazaars can be seen everywhere we go. They sprouted in malls, unused parking lots, churches or side walks. We patronize them because they sell cheaper items compared to supermarkets or malls. Sometimes they became a nuisance to pedestrians and motorist that causes heavy traffic because they occupy most of the side walks. Anyway if are just responsible and follow rules and guidelines like for example setting up in a place with heavy foot traffic but away from sidewalks to avoid causing heavy traffic on motorist and of course punishment from MMDA.
So without much ado, here are some tips that might be helpful to you if you want to venture on selling your commodities in tiangge or bazaars :
Prepare some investment – joining a bazaar to sell your wares requires a little more investment because stall rentals range from 2,500 to 7,000 pesos a day. Other bazaars can set you back 12,000 pesos a weekend. But you can get package rates if you sign up all the tiangge dates available. Bazaars in hotels and venues like the Manila Polo Club are usually more expensive, while a church tiangge can be cheaper if it's open air.
Keep the traffic in mind. – When choosing a booth, try to get one where everybody will be sure to pass. Right near the entrance is the best place, so try to reserve your booth space as early as possible. Make your booth attractive to shoppes by using materials like mirrors and spotlights for sure visibility. For more display space, get a wall booth.
Save on cost – Sharing a booth with someone else so you can share the rental. Its is also good to man your own booth, because customers like tit when they get to chat with the owner.
Know how low you can go – Haggling is part of the tiangge tradition, so you have to know your cost and up to how much you are willing to compromise the price. Twenty percent of your sale price is a fair discount. As an alternative to giving discounts, you can offer promos, like a special price if the customer gets two items or a small gift that comes with the purchase. Be a little creative.
Mix your merchandise – When thinking of items to sell in your booth, remember that people come to bazaars because they want to see things that they won't find in malls. Combining consigned items with things that you yourself made so you can easily get your money back.
Think ahead – Be ready with calling cards to give out to customers. That way they can get in touch with you the rest of the year. Who knows, this might be an opportunity for a bigger market like for example export or a supplier of a big company.
[tag]tiangge,bazzar,Filipino entrepreneur[/tag]