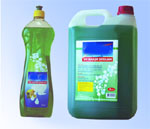 Liquid detergents are used to clean our kitchen utensils and our dinning utensils like fork,dishes, spoon, knives, pots and pans. Pinoy entrepreneurs who wish to make their own liquid detergents can use the instructions below. The materials and chemicals needed to start making your own liquid detergents can be bought to chemical stores.
For the main ingredients you need to buy the following chemicals listed on the first column. The measurement used is for one kilo liquid detergent on the second column but you can use the percentage calculation if you wish to make more than one kilo on the third column.
Utensils:
•teaspoon
•beaker
•graduated cylinder
•stainless steel container and electric mixer
•stirrer
•mixing bowl or small pail
•flask
•weighing scale
Ingredients:
| | | |
| --- | --- | --- |
| | Qty (grams) | ( % )Percent To Total Weight |
| SLES (Sodium Lauryl Ether Sulfate) | 80-130 | 8-13 |
| CDEA ( COCO DIETHANOL) | 50 | 5 |
| Sodium Triphosphate(STPP) | 30 | 3 |
| Table Salt or Sodium Chloride | 5-10 | 0.5-1 |
| Lemon Fragrance | 5-8 | 0.5-0.8 |
| Water | 772-830 | 77.2-83 |
| Total | 1000 grams | 100% |
How to Make Liquid Detergent:
1. Using a graduated cylinder on a weighing scale, measure 80-130g SLES. Measure also 772-830g water.
2. Transfer the SLES to a beaker and add a little water. Stir the SLES very well.
3. Add 50g CDEA to the SLES. Mix well with a stirrer.
4. Continue stirring the mixture until it becomes creamy. Add water once in a while to prevent the mixture from foaming while stirring.
5. Meanwhile, dissolve 30g of STPP in a little amount of water. Mix well and set aside.
6. If the CDEA-SLES mixture is already creamy, transfer it to a small pail or a stainless steel container. Add a little amount of water while stirring continuously.
7. Transfer the mixture to the mixer then switch on. When the mixture is already foamy, add the dissolved STPP slowly while mixing continuously.
8. Dissolve the salt in a little amount of water. Add this ti the mixture, which is being mixed continuously.
9. Next, add 5-8ml lemon drops as fragrance.
10. Continue mixing until the mixture thickens. Set aside.
11. Once thickened, pour the mixture into a clean container and set aside for about 2 hours.
12. When there are no more suds, pour the liquid detergent into clean bottles.
13. The liquid detergent can be used after 24 hours.
Source: Entrepinoy, TLRC