For an online seller or a freelancer, either a seller of goods or services, the biggest problem is how to get your customer's payment. But there are a number of options you can use. Bank deposit and money transfers are among the popular choices here in the Philippines but what if your clients or customers are from abroad? It will be costly to use the above mentioned but there a payment method that is very popular worldwide and that is PayPal. Good thing is, that Filipinos can now use Paypal for online transactions and you can receive money from clients by using your email address. And you can transfer your money from Paypal to your own bank account by just using the withdrawal feature in Paypal's account interface. But the problem you will encounter even if you have a bank account is you should also have a credit card.
And what if you are self-employed online entrepreneur? you will have a hard time getting approved because most of the time those who are employed with stable income or have big sums of money in their bank account can have a credit card. If you can't show a proof of income or the bank officer thinks that you don't have the capacity to pay, then they won't hesitate to reject your application. You will also not be able to use all the features in Paypal like the withdrawal feature if you don't have a credit card because it's the only way for you to verify your paypal account. So the only way is to get a credit card alternative and that is a debit card. There are many advantages of using a debit card compared to a credit card. For one thing, you will not incur debts and exorbitant interests. The yearly membership fee is also a fraction compared to a credit card. You can also use the debit card to save and withdraw your money like an ATM card.
And last but not the least, I want to share you this quote – "A banker is a fellow who lends you his umbrella when the sun is shining, but wants it back the minute it begins to rain." So now you know why banks do the best they can to collect your credit card payment when you aren't able to pay anymore.
There are a number of debit cards available in the Philippines that you can use on your paypal account. Here are some of them:
1. Unionbank EON VISA Debit Card – This debit card as far as I know is the first debit card introduced in the Philippines that can be used on international purchases online and works specially for Paypal. The annual membership fee as of today is only 350 pesos. There are also rates and fees on ATM transactions which you can see on the Unionbank website. It is also easy to get one. You can apply online or go to the nearest Unionbank branch and present 2 valid photo bearing ID to get the card.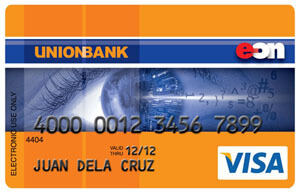 How to verify your Paypal using your Unionbank EON debit card:
Enroll your EON debit card on the Unionbank cyber account online banking.
Make sure you account has at least Php100 or more. But it is advisable to have Php200 or $3. Don't worry, paypal will deduct the Php100 for verification only and it will be refunded to you after the verification process.
Then add your EON debit card to your paypal account. The process is similar to a credit card since they both have an account number and 3 digit CVC at the back. Input those information and click the verify link to process those information.
Go to your EON cyber account online banking service and log-in. Look for the 4 digit expanded use number or EXPUSE in your transaction inquiries. The EXPUSE according to Unionbank will appear in your account within 5 banking days but in my experience it only took within 3 days.
Use the EXPUSE number to verify your EON card in the box provided in your paypal account. Just find the verify link to go there.
By the way, you can also link your EON debit card as a bank account. But don't use the 16 digit card number printed on front of the card. There is a 12 digit bank account number aside from the 16 digit card number. The 12 digit bank account number of EON can also be found on the front of the card just below the 16 digit number printed in smaller font size. It is easier to link your debit card in paypal as a bank account because you don't need to wait for the EXPUSE to verify your card. After linking it as a bank account, you are ready to transfer your paypal funds. One of the advantages of linking it as a bank account is the cheaper transfer fee compared to credit card or debit card. But the only drawback is you can't purchase online unlike a debit card.
2. BPI My ePrepaid MasterCard – similar to BPI cash card, this debit card is designed to allow you to securely and conveniently shop in all MasterCard affiliates online and worldwide. Yes it can also be used to verify in Paypal like a credit card. The registration fee is only Php500 and it is renewable every two years.  You only need 2 valid IDs and submit the filled up registration form to apply for a BPI My eprepaid card.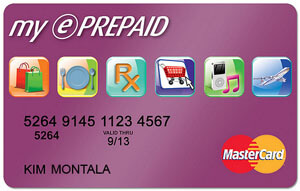 How to verify your Paypal using your BPI My ePrepaid MasterCard:
 Deposit or transfer funds not less than Php100 that will be used later for Paypal verification process. If you have a BPI savings or checking account, you can transfer the fund to your debit card via online banking using your computer or mobile phone via internet. Or you can just deposit the payment over the counter if you don't have a BPI bank account.
Then go to your paypal account and  add the 3 digit CVC code (which is usually found at the back of the card) on your paypal account.  Then click the verify link to process the information.
Then email [email protected] after 2 days to request for the 4 digit EXPUSE code. You should include your name and the 16 digit debit card number in your email to avoid delays.
No need to email them if you enrolled your BPI eprepaid debit card in your BPI express online assuming you have one. You can get the EXPUSE code on the transaction inquiries.
Use the EXPUSE number to verify your EON card in the box provided in your paypal account. Just find the verify link to go there.
(Update as of June 16, 2014 -Â Â the Western Union Prepaid Card Program was already discontinued)
3. Western Union Prepaid Gold Card – I personally haven't tried this one yet because I've already have an EON debit card. But I think this will work too because it is a debit card and has a 16 digit account number and a CVV security code just like a credit card. Those two, beside your account name of course are the basic requirement for you to verify your paypal account. You can also register your prepaid card on the Western Union website and manage or track your balance. Most probably you can also see the EXPUSE verification code on your transaction inquiry. There are also advantages using this card if you are a frequent sender or recipient of Western Union remittances because you can ask the Western Union agents to transfer your remittance to your prepaid card. Just like the 2 debit cards I mentioned above, your can withdraw your funds in any ATM in the Philippines or abroad.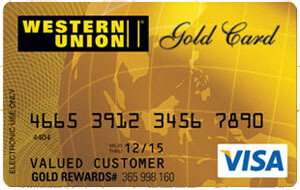 (Update as of June 16, 2014 -Â Â the Western Union Prepaid Card Program was already discontinued)
(#4 RCBC MyWallet Visa Card was just added today November 21, 2016)
4. RCBC MyWallet Visa Card – If it seems that all of the above debit card I've mentioned is not acceptable to you or maybe you are having problems availing them because the banks are asking too much documents, then I think this debit card will solve your problem. To avail MyWallet Visa card, you just need to present a photo bearing ID and fill-up the application form and pay a purchase fee of 150 pesos for the card. You need to load an amount let's say 100 pesos but there is a 20 pesos charge for every loading of the card (the term "loading" is applied to debit cards like this when you put your money in the card which is similar when you make a deposit to your savings account).  So to load 100 pesos you have to load 120 pesos because the 20 pesos will be automatically deducted. Yes it looks like you will spend some cash when loading the debit card but the annual fee is only 100 pesos on MyWallet compared to EON debit card which is 350 pesos. There is also no withdrawal fee when you use RCBC saving bank ATM (update: I saw on the RCBC website that there is a minimal charges of 2 pesos for withdrawal and 1 peso for balance inquiry). But other banks ATM on the megalink network have withdrawal charged of course. Just for the info, there are 2 kinds of RCBC Mywallet, one is the basic Mywallet that you can only use locally and cannot be used on paypal. The other is the Mywallet Visa card which I have been discussing above.
One good news that I want to share is that you can enroll on rcbconlinebanking.com website for online banking using the RCBC mywallet. I think last year they still don't have an online banking for Mywallet when I availed my first debit card from them. It's just last month that I discovered that they already have online banking for this debit card. So you can instantly see the 4 digit EXPUSE code when you verify you paypal account. The procedure of verifying your paypal account is almost the same as the UnionBank EON debit card which I've already explained above. You can also link it in your paypal as a bank account as I already explained above when you link the EON debit card as a bank account. But the only difference is that you can use the 16 digit debit card number as your bank account number.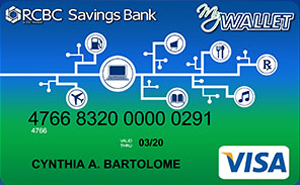 There are other local debit cards available like the BDO Ko-Kard but you need a BDO credit card to get this so I think this is an overkill if you will get a prepaid card if you already have a BDO credit card. So I hope this info helped you getting verified in paypal and if ever you know other local debit card providers, please share it by posting your comments below.
By the way, I would also like to mention the withdrawal fees that paypal charges to your transaction. Below are the charges as of November 2016:
Unionbank EON:
If used as a debit card:
7,000 pesos and above = 250 pesos
6,999 pesos and below = 250 pesos + 50 pesos
If used as a bank account:
7,000 pesos and above = free
6,999 pesos and below = 50 pesos
RCBC Mywallet:
If used as a debit card:
7,000 pesos and above = 250 pesos
6,999 pesos and below = 250 pesos + 50 pesos
If used as a bank account:
7,000 pesos and above = 110 pesos (remmitance fee)
6,999 pesos and below = 110 pesos + 50 pesos