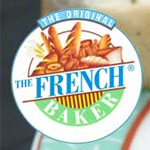 I'm sure many Filipinos know the bake shop "French Baker". Although all the baked goodies are foreign, yet we used to patronize the products . I 'm not sure why but I myself was attracted the first time I see that in SM Megamall. I use to shun away from expensive or to those gourmet type of food store because I was afraid of the cost. Just looking at the bakeshop, my first impression was "it might be expensive" but when I tried to enter the shop and see the prices, well it was not that expensive after all. Yes they price higher than the average bakeshops but when you see the quality of the bread and other baked goodies, you won't think of the price anymore. Other bakeshop with the same quality are priced higher. I guess there is something the way they organize the shop, how they priced the items, improve the quality or the design of their company logo have something to do why they can attract so many customers.
Although I've seen the owner of French Baker in TV interview in the past years, I never thought that he was a former business professor in UP which I came to know from a blog I read. I always thought that since his name Johnlu Koa, obviously a Chinese or half-Chinese have started a business like most Chinese businessmen which didn't did go to other kind of livelihood like employment. Maybe I'm just being narrow minded because if you will read many success stories of entrepreneurs, there are various ways how they reach their way before they become entrepreneurs. So maybe his secret, it seems, is a combination of good education, marketing know-how and a good nose for opportunities and ideas. Below is the article I got which I think might be interesting to you. So read on….
=============
French baker in 1988 took the bread and bakeshop industry by storm. Koa's bakeshop successfully and unexpectedly staged a coup and captured the taste of the previously monay and pandesal-loving Filipino consumers. From a single store in SM City Annex in 1988, it now has 12 branches all over Metro Manila and more shops to open in key cities of the country. In such a short time, Koa was able to establish a strong market presence and has refined the Filipino's taste for bread. After French baker, bread will never be the same again for Pinoys.
Koa's family owned Honeybread Bakeshop which was established in 1979. He had been with the family business since 1980. While still in UP, he would wake up early to deliver bread to the stores before going to his classes. It was in 1988 that he decided to leave the academe to start on his own business.
"My wanting to put up a business," he says, "stems form the fact that there are so many opportunities lying around, especially in the bread business." He help the bread industry mature by making previously unaffordable and unpopular varieties of bread within reach to many people. He has introduces variety, quality, freshness and affordability in his products.
Aside from product superiority, what further contributed to French Baker's success is the locational advantage it enjoys by 'piggybacking' on the development and expansion of malls and shopping centers in the country. Koa brought the bakeshop within reach to the young and upwardly mobile generation of Filipinos.
With French Baker sales and earnings hitting an all-time high and well deserved recognition coming from the Philippine Marketing Association, and a beautiful wife and baby at his side to boot, what more can a man ask for?
Indeed at 37, Johnlu is the envy of many young people in the country. But beyond this, he epitomize the new breed of entrepreneurs of the '90s: educated and a "generalist," skilled and knowledgeable in the production process of the trade he specializes in, and armed with the marketing know-how to help catapult a business opportunity to phenomenal success.
How many academics can turn themselves into business legends? Not many. But Johnlu Koa will surely be at the top of the list.
=============
Source: Small Business by Neri Olemos, entrebank.blogspot.com
French Baker website: www.thefrenchbaker.com