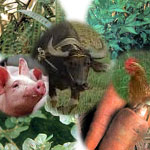 Cost is one of the factors that reduces our profits with regards to our business. And one of the cost that burdens farmers are medicines for their farm animals and pets. Since the medicines for animals are out of reach for most poor farmers and most rural places in the Philippines don't have adequate supplies of veterinary medicines, the list below can be of help using folkloric medicines.
The following have been tried and found helpful for the following animal ailments such as:
Intestinal Worms
Lagundi – crush ½ to 1 kilo leaves
– mix with 2 to 3 spoons of sugar
– give the mixture to the animal
Ipil-ipil – pulverize half a glass of dried seeds
– mix with about ½ or 3/4 glass of water
– give to the infected animal but not on a pregnant animal.
Cadris – wash and crush about ½ to 1 kilo leaves } give to the animal
Amargoso leaves – crush ½ to 1 kilo leaves
– give the juice 1 to 3 times.
Bunga – pulverize 8-10 young bunga, put in a glass of water and give to the animal.
External Parasites (Lice)
1. Kakawate – wash and crush the fresh leaves
– apply on the affected part once or twice a day for one week.
2. Acapulco – do as in kakawate, but apply 2 times a day for 2 weeks.
Diarrhea
Loose bowel movement in animals may be due to microbes, worms, contaminated food or a combination of these. The signs are fever, watery discharge, and loss of appetite. Because of loss of water, salt and nourishment in the body, it is necessary to give first aid to the animal. A good cure is young coconut juice with brown sugar and salt.
To arrest the discharge, give concoction of cogon roots, guava or caimito leaves.
1. Caimito — boil ½ kilo leaves in 3 glasses of water until the amount is reduced to a glass. Cool and give to the animal two hours a day for 2 days.
2. Banana — feed the animal with fresh leaves 2 times a day for four days or until the animal has recovered.
Wounds
1. Carrot — clean the carrot, scrape, and mix with dried tobacco leaves. Apply on the wound once a day or every other day.
2. Eggplant — pound eggplant leaves, apply on the wound once or twice daily for one week.
You can also visit this site Filipino Herbs Healing Wonders for other uses of medicinal plants.
Source: PCARRD Monitor Feb 1990
Overall Source: Province of Sorsogon Website – http://elgu2.ncc.gov.ph/ppdo-sor/
[tag]medicinal plants[/tag]