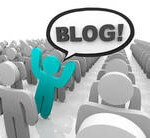 Since blogging became popular, many flocked into this hype and some bloggers posts I've read said that even their pet dog has a blog. I guess what he is trying to say is how simple it is to set up a blog. I don't disagree with that if only setting up a simple free blog like Blogger.Com and no complicated SEO strategies, social networking,  installation of software and setting up a domain name and webhosting are involved. I can describe it to be as simple as making a Microsoft Word document. But if you want to be serious as a Problogger, you need more skills and knowledge than just setting up a blog which I think a business owner will have an option if he wants to be a Problogger or just a blogger for his brick and mortar or even an online business.
But why is it that business owners need to have a blog too? Blogging seems a perfect fit for a business owner and I can enumerate them as follows:
It can make your business plans reach out to more people including your employees that will show them that you truly believe on your business.
It will organize and help people visualize your goals and achievements in a wider range.
It is just a good way to get your name and your businesses name out in cyber space. (Branding)
It can be used to generate traffic and generate sales.
It can be used to keep in touch with your customers.
I think those are just a few things a business owner can benefit from setting up a blog. There are other indirect or back-end benefits like feedback from customers which a business owner can use to improve his business. Of course there can be negative feedbacks and it's up to the business owner how he will handle it.
Here within the Philippines a business blog is wherever Filipinos and everybody within the world will get free, promptly accessible, and recent information and knowledge regarding business, entrepreneurship, marketing, management, business taxation, accounting, finance and related connected subjects that may aid them reach their varied goals. We need business blogs to seek out answers to our queries and solutions to our everyday issues in doing business.
So how about you? do you think having a blog will help in a small business? In this digital age, where different gadgets are being produced and invented as years pass by. Before or a few years back, only a desktop computer can access the internet and when the laptop was invented, it was the first mobile internet accessing device. Then, following the laptops are the internet capable mobile cellphone and it was developed to become a smart phone like Apple iPhone and Android from Google. Now different sizes and features of tablet computers abound. So the availability of the device to an ordinary person is not as restricted as before where only computer geeks can use a computer and access the internet.